Sao Paulo Cheapest Fares
The lowest fare found to Sao Paulo (SAO) was £1609 with TAP Air Portugal and Business Class was £1609 with TAP Air Portugal. The fares shown here are the lowest flight prices to Sao Paulo obtained in actual searches by Just The Flight customers. To search and book flights to Sao Paulo in 2020 and 2021, please enter your requirements and click the search button above.
The Sao Paolo LBGT Pride Parade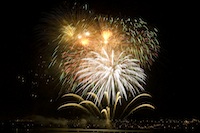 The Sao Paolo LBGT Pride Parade is an event that takes place annually in Sao Paolo, Brazil, usually in the month of June. Since the first march was held in the late 1990s this destination's gay pride event has grown from a mere 2,000 to approximately three million attendees each year, placing it into the Guinness Book of Records as the world's largest gay pride celebration.
The vibrant festivities are organised by APOGLBT (the Associacao da Parada do Orgulho de Gays, Lesbicas, Bissexuais e Travestis e Transexuais), which is a non-profit making organization dedicated to creating a more fair and accepting society that is equal for everyone.
The event's main activity, the parade, features participants wearing lavish carnival-style costumes riding on large decorated floats known as Trio Eletricos and accompanied by music provided by some of the area's top DJ's. The parade travels down the city's main boulevard, starting at around noon at the Museum of Modern Art of Sao Paulo, and continuing for approximately two and a half miles before ending at around 10:00 pm.
As this favoured celebration of Sao Paolo's residents – who are renowned for their energy when partying – has grown, more activities have been added to the list of events such as Gay Day, which takes place on the Saturday before the parade, the LGBT Cultural Fair and the Citizenship Award in Respect of Diversity.
This is a very busy time of year for the destination and it is advised, whether travelling alone or as part of a group, to arrange accommodation well in advance to avoid disappointment.