Rio De Janeiro Cheapest Fares
To search and book flights to Rio De Janeiro in 2020 and 2021, please enter your requirements and click the search button above.
Worlds largest carnival draws crowds to Rio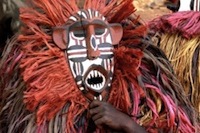 Rio de Janeiro, often known simply as Rio, is the second largest city in Brazil and a hugely popular tourist destination. While the city has plenty to offer in terms of attractions and things to do, one event draws more people to the Rio than any other. The Rio Carnival is the biggest in the world and sets the benchmark for any other carnivals and festivals.
The self-proclaimed 'most famous party in the world' is a four-day event, celebrated before Lent each year. A high energy, fun-filled event, the carnival is a chance to experience the best of Brazilian culture, while singing, dancing and enjoying the euphoric atmosphere.
The main parade and floats are organised by the samba schools of the area. These are social clubs representing particular neighbourhoods and they are responsible for the music, themes, and costumes in the parade. In addition to the main parade, various street festivals, filled with music and dancing take place all around Rio and surrounding areas. Costumes are not just encouraged, they are expected during the carnival with many partygoers spending months designing the perfect costume. Many costumes are available to rent or buy for the event with the general consensus being 'the more elaborate, the better.'
Attracting over 2 million people each day, the Rio Carnival is an astounding spectacle to witness and be a part of. Anyone who travels to this destination and wishing to immerse themselves in the true Rio culture should try to visit during the Carnival for an unforgettable experience.