Seattle Cheapest Fares
To search and book flights to Seattle in 2020 and 2021, please enter your requirements and click the search button above.
Northwest Folklife Festival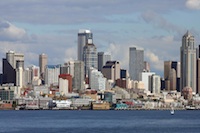 Discover a plethora of cultures and learn about their lifestyles at the Northwest Folklife Festival. Held every May in Seattle since 1972, the event is a celebration of the diversity of cultures in the area.
The aim of the Folklife Festival is to stimulate interest in the traditional arts practiced throughout the destination, and it is free to attend. For many ethnic groups, this four-day event has become an important activity for promoting their culture. Unsurprisingly, the diversity of communities in the Northwest expanded since the festival began.
Each year, thousands of visitors from across the world come to this destination to enjoy the activities that are run by home-grown performers. Guests can enjoy local folk and ethnic music, relax in the beer garden, and sample food from ethnic vendors. There is also a wide array of activities that help to encourage awareness of various cultural traditions. From live performances of musicians to impromptu music lessons, the festival is full of diverse and stimulating sounds. Visitors can also watch trapeze shows, and the athletic individuals amongst them can attempt some basic moves themselves. As well as live performances, there is a wide array of more relaxing activities such as building wooden boats, making silk flowers and discovering the secrets of henna.
While the festival celebrates the destination's own diversity, it is also an opportunity for to share their own cultural traditions at the event.