Mahe Island Cheapest Fares
To search and book flights to Mahe Island in 2020 and 2021, please enter your requirements and click the search button above.
Celebrate Creole Culture on the Island of Mahé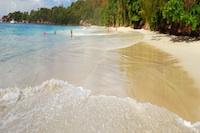 By far one of the largest and most popular destinations for visitors in the Seychelles, Mahé is a stunning landscape filled with diversity and natural beauty. As the centre of culture and tourism in the Seychelles, the island of Mahé also offers the most options for visitors looking for local attractions, shopping, and the best accommodation in the area. It is also the starting point for trips to the many other small islands that make up the Seychelles, and the hub of international travel for the region.
One of the main focuses of the festivals that dot Mahé's calendar is the Creole culture of its inhabitants. People here come from many walks of life and backgrounds, and yet the area is rich in Creole heritage, which can be seen throughout the city, and the island itself. Every year in the month of October, the Creole Festival comes to Mahé, bringing with it a great deal of fun and excitement for locals and tourists alike. Along with the pristine beaches and turquoise waters that make up the stunning landscape of this region, the Creole Festival focuses on the many aspects of their cultural heritage, which is just as rich as the natural beauty of the island.
The festival demonstrates Creole arts, crafts, music, dance and literary events, all celebrating their unique heritage. Delicious Creole cuisine is served throughout the city as well, making it a premier destination for food lovers from around the world.