Just the Flight's Guide to San Francisco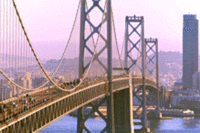 San Francisco is located in California, on the west coast of America. It is recognised as being one of the States' most popular tourist destinations, with flights to San Francisco carrying thousands of tourists every year. Geographically, the city covers an area of 46.7 square miles and is the twelfth most populated city in the USA. A number of popular and well-known islands, for example Alcatraz, Treasure Island, Yerba Buena Island and Angel Island also form part of the city and many visitors from around the world take cheap flights to San Francisco specifically to explore them.
Historically, it is thought that San Francisco was first inhabited around 3000BC and it is known that the people of the Ohlone group occupied Northern California from at least the sixth century. The city was claimed by the Spanish in the sixteenth century, after which it was taken over by the Mexicans in 1821, the English in 1835 and finally the United States in 1846.
One prominent moment in the history of San Francisco was the major earthquake, which struck in April 1906 and affected the whole of North California. Buildings collapsed and broken gas lines ignited fires that spread throughout the city, some lasting for many days. Following this disaster, San Francisco was rebuilt, rapidly and on a grander scale.
One of the most popular and spectacular sights is that of the Golden Gate Bridge, one of the world's longest suspension bridges. This bridge is surely one of the most frequently photographed in the entire world and can be seen on many picture postcards. The impressive structure makes for spectacular views and a walk across it is an absolute must when visiting San Francisco.
While in downtown San Francisco there are many sights worth visiting and things to do, Chinatown being just one example. Lombard Street, dubbed the 'crookedest street in the world', can be found in the town. In reality, it is neither the crookedest nor the steepest, but it is still of the most well-known streets in San Francisco and provides an interesting visit. If you do not have a car you can take a cable car to Hyde and Lombard and then walk the rest of the way.
There are lots of museums to visit during your stay, for example The Exploratorium, which is a hands-on museum that contains many exhibits and features elements of both science and art. The museum's outdoor rotunda and lagoon are frequently photographed and used on postcards.
Golden Gate Park is one of California's most beautiful and spectacular urban parks. Guided walking tours take place regularly or you can drive yourself through the park. There are a number of interesting features to discover, for example a Japanese tea garden, the San Francisco Botanical Garden and an open-air music concourse. Because there is so much to see at Golden Gate Park it is worth setting aside enough time to make more than one visit.
Whilst in San Francisco you may also like to spend some time relaxing on one of the many beautiful beaches in the area. There are a number to choose from within the borders of the Golden Gate National Recreation Area. Two of the most popular beaches include Ocean Beach, which is a favourite with the surfing community, and Baker Beach.
There are regular flights to San Francisco and if you're travelling from the UK it may be necessary to have a stopover at your airline's hub airport, though there are direct flights. Getting around San Francisco on public transport is relatively easy as its primary tourist attractions are clustered together in one small area. This means that you can visit Union Square, Chinatown and North Beach quite quickly, as they are all situated within a mile and a half of each other. If you don't want to walk, there are sightseeing bus tours and cable cars, which will take you to the most popular tourist locations.
The weather in San Francisco consists of a Mediterranean climate, but with cool, dry summers and mild, wet winters; temperatures average a maximum of 21 degrees Celsius in the summer months. The rainy season is from November to April and temperatures during this time tend to average between 14-18 degrees Celsius. If you go in December, hoping for a white Christmas in the city, think again, there have only been ten recorded instances of snow falling in San Francisco since 1852.