Ho Chi Minh City Cheapest Fares
To search and book flights to Ho Chi Minh City in 2020 and 2021, please enter your requirements and click the search button above.
Wandering Souls Day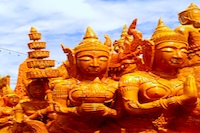 Tet Trung Nguyen, or Wandering Souls Day, is the second largest festival celebrated in Vietnam and a visit to Ho Chi Minh City during this festival – which takes place on the 15th day of the seventh lunar month – can be a rewarding and educational experience. Special offerings of food and gifts are made to the souls of the forgotten dead – or the wandering souls. .
Buddhism teaches that every person has two souls, one spiritual – called the Hon, and the other material – called the Via. It is believed that after death, the Hon is judged at a tribunal in hell by ten justices and judgement is then rendered as to whether the soul is sent to heaven or hell, according to the person's conduct on Earth. If consigned to hell, the soul has a final chance of redemption from Lord Buddha through the prayers of the living made on Wandering Souls Day. Offerings of meat, rice, fruit and other delicacies are made to try to satisfy the appetite of the wandering souls, gravestones are cleaned and prayers are said for their well-being.
In Ho Chi Minh City, the special attraction of this sacred festival is the incredible Tree of Wandering Souls in the Giac Lam Pagoda, the city's oldest pagoda and home to a vast array of small and medium sized statues of Buddha. Here, people pray for their sick relatives, writing the names of the loved ones onto slips of paper and attaching them to the tree.