Just the Flight's Guide to Shanghai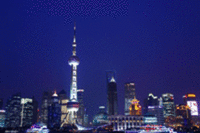 Shanghai, with a population of over 13 million, is an international hub situated on the East coast of the East China Sea. Getting to this part of China is now very easy, with 16 flights to Shanghai per week, and a flight time of around 14 hours.
The city is by no means a weekend break destination, but it is possible to find cheap flights to Shanghai online. Most visitors to the city are in transit to Australia or New Zealand and only have seven or eight hours to kill before their onward flight. But there's so much to see that for the independent traveller it is much better to look for direct flights to Shanghai and spend several days there before moving on to Beijing.
If you're a shopaholic you will find Shanghai will satisfy all your cravings. The shopping district is conveniently divided into what is known as the 'Four Streets and Four Cities', comprising Nanjing, East and North Sichuan and Huahai Roads, and the commercial centres of Zhangyang Road, Ever Bright City, Xujiahui and the Yuyuan Garden. Here you can buy jewellery, jade artefacts, antiques and local crafts as well as goods from the big name stores such as Gucci, Hugo Boss, Ferragamo ... the list is endless, so either leave the plastic at home, or make sure you've plenty of credit on it. It is estimated the Nanjing Road sees 1.7 million people on it every day, so shopping here is not for the faint-hearted.
One of the most popular tourist purchases is handmade clothes, and it is not just men looking for a made-to-measure business suit. The ladies too can choose from a wide selection of Chinese silks and satins and have them made up into beautiful Chinese-style dresses, which won't be found back home in M&S.
If you are a keen dressmaker yourself, you will be dazzled by the section of fabrics for sale in the Nan Wai Tan fabric market in Lujiabang Road. It's the largest such market in Shanghai. For ready-made Chinese-style dresses, head for the Maoming Road. Even though they're not made to measure, the fit and workmanship are first class.
When you and your flexible friend can stand no more, it may be time to head somewhere quieter and a little more spiritual and the Yuyuan Gardens can provide some down-time (yes, the shopping centre is in the same area but not close enough to disturb the tranquillity). Created in the Ming Dynasty, the gardens are the oldest in the city and have six different havens of peace in which to sit and chill. There are magnificent rockeries, delicate pavilions and cool pools of water scattered throughout the five acre site.
Be sure not to miss the Jade Buddha Temple, in the Western part of the city. Besides the two magnificent Buddhas which give the temple its name there are six halls containing many more Buddhist works of art. The whole area has an incredibly spiritual atmosphere which is very welcome after the hectic melee of the shopping areas.
Shanghai is a crowded city with not many chances for panoramic views, so a good way of seeing the city from a distance is to take a cruise on the Huango, the river on which Shanghai is situated. An evening supper cruise is a delightful way to round off an exhausting day of shopping and sightseeing, but for those with plenty of energy, Shanghai has an energetic night life.
The bars and clubs which crowd the Tongren Lu, Huaihai Lu and Nanjing Lu districts are Western orientated, while all the large international hotels have comfortable bars if you feel like a quiet night in.
For a great night on the town, however, head for the Bund. The ornate buildings which are so elegant in daylight take on an enchanted air when illuminated by hundreds of coloured lights, and the view across the river is quite magical.
The entertainment on offer is wide; there are teahouses (open 24 hours a day) where you can try some of China's fabled teas, coffee houses, or for something livelier there are karaoke bars, discos, and nightclubs. Drinks can be a bit pricey, but many bars offer 'happy hours' so search around before going into the first bar you see.
Evenings out are popular with Shanghai citizens and tourists, so it is a wonderful way to round off a stay in this vibrant city.