Just the Flight's Guide to Singapore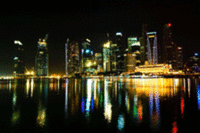 Singapore is located in Southeast Asia and is a popular destination with tourists due to the myriad of activities available and also its close proximity to Malaysia. Founded as a British trading colony in 1819, since 1965 when it gained independence, it has thrived, attracting many flights to Singapore each year. Currently, it is considered one of the best places to live in all of Asia. With a modern infrastructure and a dense population, no space is wasted in this city/country. Its population is predominantly Chinese (about 75%) with Malays, Indians and the obligatory collection of expats. It is estimated that up to one third of the population are non-nationals.
Visitors can book cheap flights to Singapore at any time of the year as the weather is always sunny with no specific seasons, although it can rain regularly. The typical daytime temperature ranges from 28 to 32 degrees Celsius with nighttime temperatures from 23 to 26 degrees; air-conditioning is essential and is commonly used by locals - all public transport is also climate controlled.
Those who like to eat (and who doesn't?) can avail themselves of a multitude of different food in Singapore, from local dishes such as chilli crab, with Indian and Malaysian food also being well represented. As the majority of the population is Chinese many restaurants offer Chinese food which is sometimes a blend of Malaysian food and makes for a memorable restaurant experience. Food courts and street hawkers also provide excellent food that is delicious.
With a highly developed transport system, travelling within Singapore is easy: the public transportation system is among the best in the world with buses and subways available, even taxis are reasonably priced. It is also possible to use trishaws (bicycle taxis) or take bumboats between various points on the Singapore River. You can also take a ferry to the Southern Islands for lagoon swimming. Of course bicycles may also be used but the best solution may well be to walk to your destination in this pedestrian-friendly city.
Travellers who book flights to Singapore are certainly not disappointed when it comes to activities in the city: for beaches just head to Sentosa or the Southern islands, for food and culture head to the relevant district, Chinatown (for Chinese food), Little India (for Indian), Kampong Glam (for Arab/Malay food) or the East Coast for delicious fresh seafood.
For history buffs the Bras Basah area is full of historic building and museums. Nature lovers can enjoy the Singapore Zoo, Night Safari, Jurong Bird Park and the Botanical Gardens. Orchard Road caters for shopaholics and has to be seen to be believed - every possible item can be purchased in this area. Bugis is also a shopper's paradise.
Singapore now hosts many international concerts and any pop music band or DJ touring Asia will definitely appear in Singapore. The Esplanade Theatre in Marina Bay is a premier venue and frequently offers performances from the Singapore Symphony Orchestra.
Sports fans can avail themselves of Grand Prix action (at least until 2012), water sports are catered for in many locations (Singapore also has the highest density of swimming pools in the world) and Singapore boasts two world class casinos that attract gamblers from all over the world. In addition The Singapore Turf Club has racing most Fridays and is very popular with local gamblers. A large number of golf courses are available and comfortable accommodation is a given when you stay in Singapore.
The nightlife in Singapore is a thriving one with many clubs having a 24 hour licence and with few closing before 3am. Generally located on the quays -to minimise noise pollution, they are a popular destination for locals and tourists alike.
This is just a summary of what's available in Singapore, it has much more to offer and can also be used as a base to travel to other areas in South-East Asia, including: Batam, Kuala Lumpur, or Bintan. Bangkok is a mere two hours away by air and is a popular shopping destination, even among the locals. Langkawi is just over an hour away and is famous for its beaches. So regardless of your itinerary, a short trip or one lasting months there is plenty to hold your interest in this modern city.