San Juan Cheapest Fares
To search and book flights to San Juan in 2020 and 2021, please enter your requirements and click the search button above.
San Juan's Festival La Casita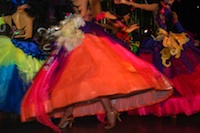 San Juan celebrates year round with its Festival La Casita. The festival takes place every Saturday after 6pm and every Sunday after 4pm at the Plaza Parsena in Old San Juan across from Pier 1.
The festival is aimed at drawing both natives and tourists alike. It opens late enough each night that vendors and shoppers will have finished their daily chores. The festival then starts up with lively music to draw in crowds. The music is all local and live, displaying the talented musicians of Puerto Rico and San Juan.
Music is not the only entertainment on tap for Festival La Casita. The vibrant music often lends itself to dance parties. Dance groups also make use of the beat to display their skills. Additionally, artists of all types from around San Juan and Puerto Rico use Festival La Casita as an opportunity to showcase their talents. In addition to music, there are performances, including orchestral performances. For the younger crowd, puppeteers are on hand to entertain. Artists put their paintings and sculptures on display for public viewing as well.
The Festival La Casita celebrates all of Puerto Rico's arts. Along with seasoned professionals, hidden talents come out to the event to try to make a name for themselves. With the event running all year round, both artists and tourists have ample time to enjoy the art and atmosphere. In the comfortably warm weather of Puerto Rico, the festival extends late into the evening every weekend.