Salt Lake City Cheapest Fares
To search and book flights to Salt Lake City in 2020 and 2021, please enter your requirements and click the search button above.
Record Breaking Snowfall Sells Salt Lake City to Tourists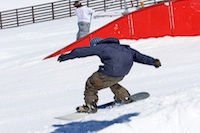 Salt Lake City is synonymous with winter sports, and since the 2002 Winter Olympics were held at this destination, tourism in the area has gone from strength to strength, buoyed by a series of record-breaking snow falls.
It is estimated that the popularity of winter sports, such as skiing and snowboarding, in the Salt Lake region increased by nearly 30 per cent in the period following the 2002 Winter Olympics. It is a figure that is entirely believable when one learns that the imposing Wasatch Mountains that lie to the east of the city are home to 14 different winter-sports resorts, and astonishingly, especially for a country as large as America, seven of those resorts are less than a one-hour drive away from Salt Lake City International Airport. It is a statistic that many of the European Alpine ski resorts must envy.
The snow-capped mountains dominate the city skyline and can be seen from any point of Salt Lake. There are eight winter-sports resorts within 50 miles of the city, including the world famous Park City ski resort and the record-breaking and aptly named Snowbird resort, which has recorded a snowfall of nearly 60 feet for the last four consecutive winters.
The authorities responsible for marketing tourism in this destination are keen to point out that the Wasatch Mountains are a year-round playground for outdoor and extreme-sports enthusiasts. There are hiking and climbing routes, as well as mountain bike routes, that are varied enough to cater for all abilities.