St Lucia Cheapest Fares
The lowest fare found to St Lucia (SLU) was £493 with British Airways. The fares shown here are the lowest flight prices to St Lucia obtained in actual searches by Just The Flight customers. To search and book flights to St Lucia in 2020 and 2021, please enter your requirements and click the search button above.
Celebrate carnival on St Lucia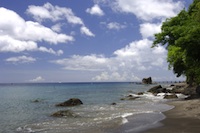 A visit to the popular destination of St Lucia, one of the Caribbean islands in the chain between Puerto Rico and the north coast of South America, is a playground for people who like to be active.
One of the best times to visit is during carnival, which is not held during the typical February time period. St Lucia's carnival is held every July, typically around the 20th of the month. Of course, there are a variety of events leading up to the carnival as well, and some of these make St Lucia in July a must-visit destination, somewhere not to be missed.
Mas on the Square is a huge pre-carnival event held at Derek Walcott Square. It features big-name entertainers and bands, and a day-long concert that sometimes spills over into the night and next day. Of course, a carnival king and queen are chosen before the actual carnival begins, as well.
Feverish preparations are made for carnival, and then the steel drums begin to play, the parades begin, and the costumed marchers begin their walks down the street beside or atop the marvellous floats.
St Lucia does a perfect job of merging its ancient culture with the more modern touches to create a carnival that is like no other in the world, and one that reflects the Caribbean style and pride of this country. Whether you attend a masquerade ball, a parade, or just stroll the streets enjoying the perfect weather and the tasty food, a visit to St Lucia during carnival time is not to be missed.