Ekaterinburg Cheapest Fares
To search and book flights to Ekaterinburg in 2019 and 2020, please enter your requirements and click the search button above.
See the last home of the Tsars in Ekaterinburg, Russia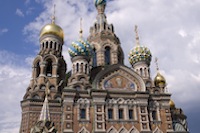 Ekaterinburg, Russia, is a beautiful city that can reveal a chequered past. It was at this destination, amid the gold-plated onion domes, that Tsar Nikolai II, along with his wife Alexandra and their five children, were all killed. The Bolshevik Revolution of 1917 forever changed the political landscape of Russia and, today, various sites around the city pay homage to the many men and women who fought during the uprising.
At the site of their murders a new cathedral has been erected, and this is where the remains of the Romanovs are interred. Any visit to Ekaterinburg should include a stop at the Cathedral-of-the-Blood.
The exterior of the building is stone, allowing this more modern building to blend easily with surrounding architecture. The walls are a beautiful white, and granite columns stand out in sharp relief. Bas-relief sculptures of the 48 Russian saints create a stunning parade along the side of the building. The room where the family was murdered is beautifully decorated and the story of the Romanovs and their final days is told in touching detail. The cathedral was opened in 2003, on the 85th anniversary of the murders. It is one of the top attractions of people visiting Ekaterinburg, and is well maintained by the city. The destination also holds a wide variety of churches and cathedrals with some of the most amazing architecture in the world. And, while these should definitely be on anyone's itinerary, the Cathedral-of-the-Blood should be the first thing one visits.