Just the Flight's Guide to Sydney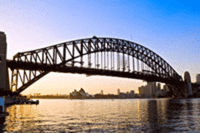 Sydney is known as 'The Harbour City' and is the largest city in Australia. With miles of sandy beaches and cultural landmarks such as the Sydney Opera House, it is a very popular destination for tourists from all over the world. The most famous destinations in the area include Bondi Beach, Manly, Sydney Olympic Park and Taronga Zoo.
Climate wise, Sydney is suitable for visiting at any time of the year and has over 300 days of sunshine with summer (December to February) temperatures ranging from 26 degrees Celsius to around 40 degrees (luckily this is only for a few days). Even in winter temperatures will not drop below ten degrees Celsius at night.
Cheap flights to Sydney can be found at our website and as with all such flights to Sydney, major carriers tend to primarily offer these routes, stopping over in Asia on the way. Interestingly Sydney airport is the oldest commercial airport (continuous operation) in the world and is Australia's busiest, only 8km from Sydney's city centre.
Transfer from the airport is easy via a train (Airport Link), mini-buses, and taxis, and of course car rental is available; a train and monorail network further assists with travel within Sydney. You can take a cruise around Sydney Harbour or zip past on jet skis - the choice is entirely yours.
Sydney has many world famous landmarks including the Sydney Opera House, Harbour Bridge, Darling Harbour, Luna Park (theme park) and St Mary's Cathedral. Historical sites include, The Rocks (from early settlements in Sydney), Parramatta (from British colonial times) and coastal artillery remains can be viewed during a walk from Manly to Middle Head.
There are tours around Sydney available regardless of your mode of transport - bus, hike, walking, and motorcycle. Many of these tours will take in some museums and galleries including: The Australian Museum, the Art Gallery of New South Wales, The Powerhouse Museum and many others to whet your cultural appetite.
Nature lovers will enjoy Sydney, as Australia is known worldwide for its indigenous species such as the kangaroo, koala, wallaby, dingo and platypus. Australia as a country protects its natural environment and offers many nature reserves and wildlife parks to tourists including: Taronga Zoo, Sydney Aquarium, The Koala Park Sanctuary and Sydney Wildlife World. While all of these display animals in captivity many can also be seen in the wild and you can even go whale watching if you wish.
Sports fans can witness the Sydney to Hobart Yacht Race (every year on Boxing Day), on Sydney Harbour. Aussie rules football is very popular as is cricket and just because it's warm does not mean you can't go ice skating (there are three large rinks in Sydney). Swim at one of Sydney's many beaches or cycle in the same park as those in the 2000 Olympics.
Performance art, classical music, IMAX theatres, flight training in open cockpit biplanes; whatever you desire its available in Sydney and if you just want a relaxing walk there are many routes available (with a guide if you wish). With many festivals and exhibitions held in Sydney every year there is definitely no shortage of activities available.
There is no shortage of shopping options either, with a high concentration of malls and shopping centres in the northern section of the CBD (Central Business District). The Queen Victoria Building in the city centre has over 400 outlets, ranging from cheap to designer label prices. DFO is a place to shop for designer brands at discount prices and is located near the Sydney Olympic Park.
Restaurants are on every street in Sydney with fast food options readily available but there are also many areas such as Darlington Harbour with many restaurants in one location. Western, Indian, Thai, Chinese and many others (Korean, Japanese, Spanish, you name it!) are all available and will cater for all budgets.
With its thriving nightlife, travellers who book flights to Sydney are sure to experience a great time, as the city is host to many bars and clubs (far too many to list here). Suffice it to say, regardless of your desired venue Sydney will have a match, from quiet business bars, Irish pubs to loud nightclubs, there is plenty of choice and combined with accommodation available in all areas, the chances are that Sydney will be a venue you will return to again and again.
Outside Sydney, more options open up for memorable trips to other areas; spend a day or two in a National Park (such as The Royal / Wollemi / Kanangra Boyd National Parks), get back to nature and also tour the Jenolan Caves if time allows.