Seaside and Style in a Stunning Setting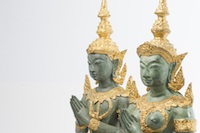 Qingdao is in China's Shandung province, set on the eastern coastline and boasting beaches, museums, parks and entertainment that will cater for all tastes.
The destination has a colonial history and a Germanic influence can still be seen in certain parts of the historic city centre. That influence was also behind the development of the Tsingtao brewery, the brand being the most popular in China.
As a coastal city, which can easily be reached by flights from the capital, Beijing and from Shanghai, Qingdao is a popular holiday destination and played host to the sailing events of the 2008 Summer Olympic Games.
A major landmark is the stunning Zhanshan Temple, which draws many thousands of people to visit every year. This Buddhist temple has fine carvings and statues depicting Buddha and Buddhist scriptures. Another landmark is the Zhan Qiao pier, extended by the Germans and an icon of the city. Today there are dozens of stalls thronging it, creating a real taste of Chinese life.
Qingdao Underwater World and Aquarium features a moving platform taking visitors through a tunnel so that fish can be seen from every conceivable angle. Polar Ocean World has dolphin, whale and seal shows, as well as providing the chance to see polar bears and penguins.
Eating out in this destination offers a huge amount of choice, from the simple dumplings sold by street vendors to top of the range restaurants. Popular with visitors is the Qingdao International Beer Festival, held annually at the end of August.