Ulaanbaatar Cheapest Fares
To search and book flights to Ulaanbaatar in 2019 and 2020, please enter your requirements and click the search button above.
Mongolian Traditions Abound at the Nadaam Festival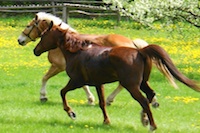 As the most celebrated annual event in Mongolia, the Nadaam festival is a unique blend of some of the most vibrant and unique aspects of the country's culture and traditions. Every summer in Ulaanbaatar, thousands of people descend on the area to take part in a three-day event that incorporates competitive games, the Mongolian people's love of horses and a religious holiday celebrating Buddhist traditions, making the city an exciting destination.
The Nadaam festival has been held for centuries every July, and is now the most anticipated event in the entire country. The festival showcases two days of competitive sports in the areas of horse racing, archery and wrestling, three of the most beloved activities of the Mongolian people. Long known as a race of people who had a special relationship with horses, there are literally a thousand horses that compete each year in the festival's races, making it one of the largest in the world. Men and women are able to compete in the horse racing and archery competitions, making it a time of celebration and honouring of their traditions for everyone.
The third day of the celebration is reserved for parties and merry-making once all of the competitions have concluded. By showcasing the unique traditions of the Mongolian culture, this festival in Ulaanbaatar is the perfect way for visitors to truly have a one of a kind experience whilst on holiday.
Daily flights leave for Ulaanbaatar throughout the year, and the city has many other exciting sports events and religious festivals across the calendar to celebrate its unique culture, making it a year-round destination.