St Lucia Cheapest Fares
The lowest fare found to St Lucia (UVF) was £493 with British Airways. The fares shown here are the lowest flight prices to St Lucia obtained in actual searches by Just The Flight customers. To search and book flights to St Lucia in 2020 and 2021, please enter your requirements and click the search button above.
Visit St Lucia for the annual Jazz Festival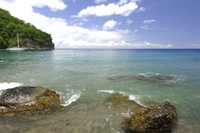 St. Lucia, in the eastern Caribbean, is an island of great natural beauty as well as warm weather, golden sands and gentle waves. It's the perfect destination for the rich musical tradition that these islands have become known for.
Visit St Lucia in May and take part in the St Lucia Jazz Festival, a month-long celebration that features not just jazz but creole, blues, African and even some country and rock sounds.
Huge names take part in this festival. Past headliners have included Kenny G, John Legend, Rihanna, Santana and more.
From the main stage, acts can be found throughout the island and even on the beaches. You'll find Jazz on the Green, Jazz on the Grill, Jazz on the Pier, Tea Time Jazz, and far more. Many of the largest venues are in Pigeon Island National Landmark, a 44-acre natural reserve of varying types of terrain. From the heights of the peaks to where the Atlantic and Caribbean waters meet, this venue is so gorgeous that many performers return time and again because of the stunning surroundings.
St Lucia also offers duty-free shopping in the Pointe Seraphine Shopping Complex, and street vendors and local stores sell jazz-related items throughout the festival.
Jazz on the Pier has become one of the biggest events of the entire festival. Stroll through the numerous interesting shops and find many duty-free items, all while being serenaded by soft jazz from live entertainers scattered throughout the complex. It's an experience you'll find at no other destination but at the St Lucia Jazz Festival.