Ottawa Cheapest Fares
To search and book flights to Ottawa in 2020 and 2021, please enter your requirements and click the search button above.
Canada's capital city is alive with festivals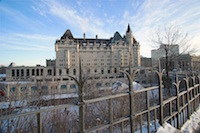 Being the major political and government hub of Canada, Ottawa is a great destination for anyone wanting to experience it all. There's no doubt about the beauty of this capital city. The streets are lined with cosy coffee shops and art galleries. During peak holidays, thousands of people can be seen in the streets celebrating national events or other festivities.
If you have Ottawa set as your summer destination, take the opportunity to car hire and enjoy the openness of the local highways. Nearby towns and cities won't be far away allowing great exploring. Summer days provide pleasant temperatures with moderate rain, making it an ideal time for sightseeing.
The main feature of this city is Parliament Hill. On Parliament Hill the majority of tourists will pay a visit to the Chamber of the House of Commons and Senate building. This is where members hold their offices. It is also where visitors can go to see a live session and an overview on Canada's government system.
There are several major events held in Ottawa each year with Canada Day being the most significant. This July event sees thousand of locals and visitors alike line the streets to watch the parade then head off to a variety of venues for a day of live music and other festivities. Other major summer events include the popular Ottawa Bluesfest and the TD International Jazz Festival.