Just the Flight's Guide to Toronto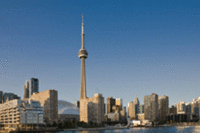 Toronto is located on the northwestern shore of Lake Ontario and is the most heavily populated city in Canada (over 2 million people). It is also the capital of Ontario province. The city was formed in 1793, and because of relaxed immigration laws and a buoyant economy has grown to become one of the most culturally diverse cities in the world.
The city is one of the most popular Canadian holiday destinations and with such a multitude of activities available it will always be a premier destination for tourists - holidaymakers who book flights to Toronto will certainly not be disappointed.
Toronto can be visited at any time of the year, but during the winter wrapping up well will be necessary with the lowest temperatures often reaching around minus five degrees Celsius. Toronto is a popular destination for all ages of traveller and the city and surrounding areas has something to offer everyone. Because of its distance of over 3000 miles from the UK, flights to Toronto are typically offered by the larger airlines only. Despite the distance, cheap flights to Toronto are often readily available.
Travelling around Toronto is simple with many options available (buses, streetcars, subway lines, and the Scarborough Rapid Transit line); the most commonly used being the subway system, which will put you in range of most tourist attractions and live performance venues. Taxis are easily obtained and visitors are advised not to drive themselves unless they are intimately familiar with the city; the one way systems can be difficult to get to grips with.
Museums are plentiful and cater for most tastes; Central Toronto contains the Royal Ontario Museum (home of the Libeskind Crystal), and the Art Gallery of Ontario. Both of these sites are world-class with full time collections to rival other global museums and galleries. It also regularly hosts exhibitions from other museums and galleries around the world. Check online for upcoming events.
The Gardiner Ceramic Museum, Hockey Hall of Fame and Ontario Science Centre are also worth a visit and will pass away many an enjoyable hour. Toronto is a major centre for the performing arts, with at least six opera companies, two symphony orchestras, fifty ballet and dance companies and a host of theatres at its disposal. The National Ballet of Canada, the Canadian Stage Company, Canadian Opera Company and the Toronto Symphony Orchestra are all based in Toronto.
The Toronto Zoo covers over 700 acres and is the third largest in the world; divided into six areas: Indo-Malaya, Africa, Americas, Australasia, Eurasia and of course the Canadian (for indigenous species). Some animals are displayed indoors in controlled enclosures and outdoors in what would be close to their natural environment. It also has other areas such as Splash Island, Waterside Theatre and the Kids' Zoo. The zoo is currently home to over 16,000 animals (including insects and marine life) representing almost 500 distinct species.
Yorkville is one of the most famous shopping areas in Toronto with a multitude of designer labels available. In recent years mid range stores have also opened in addition to the designer outlets and many celebrities visit the area to do their shopping. It also hosts high-profile events such as the Toronto International Film Festival and has many fine restaurants and premium hotels (such as the Windsor Arms and Renaissance Plaza.
Toronto is the only Canadian city participating in five major leagues (with teams in the National Hockey League, Major League Baseball, NBA, Canadian Football League and Major League soccer. Understandably sport is important here and you can always catch a sporting event when visiting.
As you can imagine, there is always something happening in Toronto, with thousands of live performances, exhibitions and events occurring every year. The easiest solution for visitors is to either check schedules online in advance, or just travel to Toronto and obtain event listings from one of the local tourist information offices or indeed from your hotel lobby.
In a review of this size it is impossible to outline all that Toronto has to offer, so a visit to Toronto's official information website is highly recommended. Suffice to say, whether you use Toronto as a base to explore other areas or as a short break, you will not be disappointed.
Toronto's nightlife is as vibrant as you would expect from such an international city. Bar and nightclubs are numerous and restaurants are available to cater for all, courtesy of Toronto's multi-cultural population you are as likely to find a good Chinese meal as you are to come across the standard fast food fare.