Cheap Flights to Calgary (YYC) from UK Airports
Book flights to Calgary
Calgary Cheapest Fares
To search and book flights to Calgary in 2020 and 2021, please enter your requirements and click the search button above.
Celebrate Canada Day this July in Calagary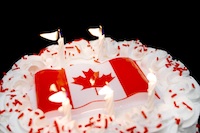 Come celebrate Canada Day in Calgary, Alberta, every 1 July. Canada day, often called 'Canada's Birthday,' honours the birth of the Constitution Act of 1867 whereby two British colonies came together to create the nation of Canada. The celebration is a legally recognised holiday for all of Canada, and every year much effort is made to celebrate it. It is usually celebrated with fireworks and food, and is even observed abroad by Canadian expatriate communities. Canada Day is a world famous event that brings out the best in Canadian culture and celebration, especially during the Canada Day parade. Canada Day has a long history that stretches back to 1868 when Viscount Monck issued a royal order for Canadians to celebrate the anniversary of their country. The holiday wasn't formalised until almost a decade later and was originally called 'Dominion Day' in reference to the country's status as a Dominion.
Calgary is surrounded by lovely rolling prairies in the foothills of the majestic Canadian Rockies. It has a population of nearly one million residents and is very welcoming to tourists who seek Calgary as a holiday destination. Calgary has a well-developed and extensive infrastructure and flights are available from many international and national Canadian destinations. Calgary is a popular destination for winter sports and eco-tourism. It is also home to the Calgary Stampede, the famous rodeo held in the summer. No matter what time of year you visit, Canada Day or Christmas, there are always plenty of things to occupy you.