Lanzarote Travel Guide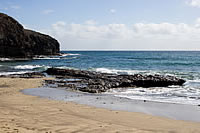 Lanzarote is the most northern of the Canary Islands situated in the North Atlantic off the coast of Africa, gateway to resorts such as Playa Blanca, Puerto del Carmen, Costa Teguise and Matagorda. A popular choice with holiday makers, Lanzarote has plenty to offer.
Location
Canary Islands, off the West African coast.
Climate
As a Canary Island the climate in Lanzarote tends to be sub-tropical and rainfall is low throughout all the Canaries. Year round sun, great winter sun destination.
Currency
Euro
Time Difference
GMT + 1
Transfer Time
Playa Blanca 45mins, Puerto del Carmen 20mins, Costa Teguise 20mins, Matagorda 15mins.
Hotels
Quality is generally very good. Ranging from 2 star self catering to 5 star all inclusive hotels there is something to suit every budget and requirement.
Attractions
The old capital of Teguise and the stunning volcanic landscapes of National Park of Timanfaya, El Grifo Wine Museum, Santa Bárbara Castle.
Shopping
Local crafts include pottery, embroidery and basket work. Cigars from the islands are of extremley high quality. Lanzarote is duty free and there are many bargins to be had on electronic equipment, alcohol & tobacco
Excursions
Cueva de los Verdes - 3 miles of volanic caves, camel trips to Fire Mountain, and Sunday market in Teguise.
Family
There is plenty for families in Lanzarote. There are quiet resorts and lively resorts with hotels that cater well for families.
Getting Around
Car hire is recommended. Buses are available to and from the main resorts but can prove to be unreliable.