Agadir Travel Guide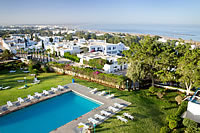 Agadir is a coastal city known for its beach and more modern image compared with some of its counterparts elsewhere in Morocco. It is an ideal destination for those looking to do little more than laze around by the sea all day, but is also perfectly placed for a memorable trip to the Sahara Desert.
Location
West coast of Morocco
Climate
Average temperatures can hit highs of about 27 degrees C during the summer, but rarely dip below three degrees C in the winter. Daytime winter temperatures can be surprisingly mild, with the average being 15 degrees C. However, the rainy season usually falls in December and January, so pack some waterproofs if you're heading to Agadir then.
Currency
Moroccan dirham
Time Difference
GMT +0
Transfer Time
Agadir Airport is located about 25 kilometres to the south-east of the city. A shuttle bus runs every 20 minutes or so between the two points until 20:00 local time and can take up to 40 minutes to get to the city centre. Taxis and hire cars are also available, taking about 20 minutes to get to central Agadir.
Hotels
Average hotel room prices can range from about £25 to £150 per night, depending on your wants and needs. Hotel Sofitel offers luxury and elegance for those who can afford to splash out, while the likes of Hotel Diaf, Atlantic Hotel and Ait Laayoune are more moderately priced for those on a tight budget. Hotels located close to the beach tend to be more expensive and cater more for groups than those further inland, so it's worth shopping around.
Attractions
The Kasbah - ancient ruins from the old city before it was rebuilt - is one of the main historical attractions of Agadir, particularly as the rest of the city is relatively modern. Other sights include the fishing port for some freshly cooked seafood dishes, as well as the spectacular beach. At night, you can choose from a number of tourist-friendly nightclubs, or opt for the more laidback option of a quiet drink in a cafe such as La Fontaine or Le Dome.
Shopping
Holidaymakers can generally find the best bargains in the various markets around Agadir. The main souk in the city offers various goods, including jewellery, handicrafts and carpets, among other things, as do the shops surrounding the market, such as the Marche Centrale shopping centre.
Excursions
If you have a thirst for more history than Agadir is able to offer, you could take a trip to Taroudant, a walled city in the Sous Valley. You could also take in the spectacular scenery of Paradise Valley, which was famously given its name by Jimi Hendrix when it was part of the 1960s hippie trail, if nature is more to your taste. The Atlas mountains are also close by for a more adventurous day trip.
Family
If the kids are into animals, why not take them on a bird watching trip to Souss Massa National Park? You could also head north of Agadir to check out more beaches, or stay in the city and visit the local zoo.
Getting Around
Walking is the best way to get around the city centre, as the buses are relatively slow and crowded. You could also get a moderately priced taxi, or perhaps hire a car or moped if you think you are going to be visiting areas inaccessible via other means.