Auckland Travel Guide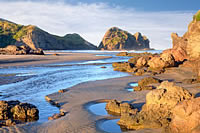 Auckland is the perfect place to visit if you like your cities to come with a good dose of sea and scenery. It is one of the biggest cities in New Zealand and offers a range of things to see and do for all kinds of holidaymakers, including exploring its harbour, checking out the surrounding volcanic and rainforest terrain, and partying until the early hours in the clubs of K Road.
Location
North Island of New Zealand
Climate
Auckland enjoys a relatively sunny climate compared with the rest of the country, particularly between November and April. The hottest - and busiest - months are January and February with mean maximum temperatures of up to 24 degrees C, while holidaymakers heading to the city in November and April can enjoy pleasant weather with temperatures of about 20 degrees C. June, July and August are the coldest with maximum temperatures of 14 to 15 degrees C.
Currency
New Zealand dollar
Time Difference
GMT +12
Transfer Time
There are number of different ways of getting from Auckland Airport to the city centre. You can take the Airbus shuttle service that leaves every 20 minutes in the daytime and every 30 minutes in the evening, or hop on a Maxx bus, which takes in several other local destinations as well as central Auckland. Taxis are widely available, while four car rental firms have offices at the airport.
Hotels
As you might expect from a city the size of Auckland, there's accommodation of every kind to be found for all types of traveller. Backpacker lodgings include hostels, surprisingly well-equipped hotels and even an entire resort, while mid-priced rooms can be found in the form of bed and breakfasts, country retreats outside of the city and holiday parks, as well as standard hotels. More affluent visitors might want to check out the likes of Earthsong Lodge on Great Barrier Island and the Cotter House luxury retreat.
Attractions
Many of Auckland's attractions have a distinctly watery theme, thanks to its location and the fact that it is also known as the City of Sails. You could go on a dolphin and whale safari or go fishing or canoeing. Alternatively, you may prefer to visit Auckland Museum, take in some art galleries, wander round the various markets that set up in the city every week or drink in the view from the Sky Tower, the tallest building in the southern hemisphere.
Shopping
As previously mentioned, plenty of markets are on hand to provide a pleasant browsing experience for whatever you might want to buy. The Aotea Square Markets are perfect for those with hippie streak, while the City Farmers' Market offers a range of freshly picked fruit and vegetables every Saturday. Meanwhile, Newmarket is home to a host of designer boutiques, beauty salons and chic cafes and bars, offering the perfect place in which to spend an entire day shopping and getting pampered.
Excursions
Head to Waiheke Island and take in the sights of the unique Connells Bay Sculpture Park, or take a trip to the Waitakere Ranges Regional Park, just half an hour from Auckland, and go on a bush walk or view some spectacular waterfalls and canyons. Or why not travel 30 miles to Bethells Beach for some of the best surfing in the region?
Family
As well as indulging in a few maritime activities, families might want to check out Rainbow's End Theme Park and SheepWorld Farm and Nature Park for a couple of fun days out. For braver souls there's the Spookers horror theme park - but make sure to take the children home before nightfall, when only over-16s can enter...
Getting Around
In terms of public transport, you can choose from a range of options. The Auckland Explorer Bus is ideal for those who want to take in the city's top attractions while getting to know its layout. Meanwhile, the bigger bus companies offer routes across the city and discounts if you intend to regularly travel over a 14-day period or longer. There are also regular ferries to and from the surrounding islands.