Amsterdam Travel Guide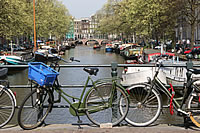 Amsterdam is one of those cities that manages to combine old and new. You can immerse yourself in art, culture and history at one of the cities museums or just hang out and watch the world go by in one of the funky, modern cafes.
Location
West Coast, Holland
Climate
Temperatures similar to southern UK, but generally sunnier
Currency
EURO
Time Difference
GMT +1 hr
Transfer Time
Amsterdam's Schipol airport is around 20-30 minutes from the city centre
Hotels
Accommodation is plentiful in and around the City Centre and includes Budget Hostels, Hotels (1 to 5 star) and House Boats.
Attractions
Art Galleries, Exhibitions, Museums (including the famous Vincent Van Gough Museum), Theatre, Canals, Red Light District, Artis Zoo, Floating Flower Market, Casino, Anna Frank's House
Shopping
Amsterdam is a shopper's paradise and has some 9000 shops (80 percent sell non-food articles). Best-known shopping street is the Kalverstraat, but bargains can be found in many others shopping centres too (eg Bilderdijkstraat, Kalverstraat, Magna plaza, Museumkwartier, to name just a few). For the avid shopper a visit to one of the many markets is a must as well.
Excursions
The organised Walking tours around the City Centre are reasonably priced and help to get your bearings in this maze of canals, bridges and historic buildings. For the energetic take the exciting half day bike tours into country areas. Other Amsterdam excursions include Canal Boat Tours, Castle Tour, Windmill, Clog workshop and Tulip Tours.
Family
Some hotels offer free or special child offers. Most tours welcome children, though parents may wish to consult with operators regarding the appropriateness of young children visiting the 'Red Light District'.
Getting Around
Most locals get around on pushbikes and these are also available for hire. Public transport includes trains, trams, buses. Private transport includes Water taxis, canal cruises and conventional taxis. Car hire is available.