Antigua Travel Guide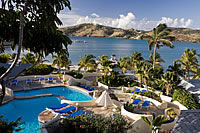 Holidaymakers looking for a luxury break in the sun might want to check out Antigua. This laidback island offers all of the important ingredients for the ultimate holiday - warm sunshine, lush beaches and a landscape ripe for exploration.
Location
The Leeward Islands in the eastern region of the Caribbean
Climate
Temperatures rarely dip below 20 degrees C, even in the winter, with rain being relatively scarce year-round. Summer temperatures can rise to over 30 degrees C. Humidity levels are generally low.
Currency
Eastern Caribbean dollars
Time Difference
GMT -4 hours
Transfer Time
V C Bird Airport is about eight kilometres north-east of the capital St John's. Taxi fares between the two points are around the $7 mark.
Hotels
Antigua boasts numerous hotels across the island, including those located in towns and in more isolated places. Prices can range from $50 for a room in a bed and breakfast, to almost $800 for a booking in a top luxury hotel. Many will offer sea views, while others look across the inner rainforest and hills.
Attractions
St John's offers stunning architecture, a comprehensive museum and plentiful shops and restaurants. Shirley Heights provides some of the best scenic views to be found on the island, the underground caves at Indian Town are ideal for a break from the heat and English Harbour, which hosts the annual Sailing Week festivities, is perfect for those with a penchant for boats.
Shopping
Antigua offers a wide variety of shopping options for holidaymakers. The island plays host to numerous shops and boutiques selling everything from handmade gifts to unique Caribbean clothing, while visitors to St John's will be able to stroll to the southern part of the town for the lively farmers' market at the weekends, which hawks tropical goods of every kind.
Excursions
Intrepid trekkers will be drawn towards with a number of well-trodden hiking trails also available for those wanting to take a look at the old hilltop fortifications that dot the landscape. Holidaymakers can also embark on various guided tours around the island, including those carried out on water.
Family
Antigua is perhaps better known for being attractive to honeymooning couples than families, but this doesn't mean that younger visitors won't have a good time on the island. Children are sure to be fascinated by the destination's links with boats and sailing, while Antigua's 365 pink and white sand beaches will keep the kids occupied for hours on end. Don't forget neighbouring Barbuda's colourful bird sanctuary and Antigua's numerous eco-tours and mini-cruises.
Getting Around
While there are a few local bus services, taxis are more plentiful and there is also the option to rent a car and zip around the scenery by yourself. However, some taxi drivers also act as qualified tour guides so it's worth inquiring into this service. Walking is the order of the day if you want to see areas that are inaccessible by road, though - not an unpleasant idea when you can take in Antigua's vibrant natural surroundings firsthand.