Athens Travel Guide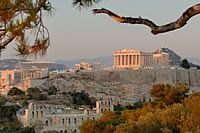 Athens, the cradle of Greek civilisation is steeped in history and visitors will love exploring its many ancient architectural sites and monuments. It is also the gateway to the Greek Islands.
Location
South-east coast of Greece
Climate
Mediterranean Climate - winter daily average temperature between 10-15 degrees Celsius, summer daily average temperature between 30-35 degrees Celsius
Currency
EURO
Time Difference
GMT +2 hrs
Transfer Time
Eleftherios Venizelos international airport is 13 Miles east of Athens and Athinai Airport is located 6miles south of Athens. Both are easily accessible by taxi, train and bus.
Hotels
A range of accommodation can be found from budget hostels through to luxury hotels.
Attractions
Famous sites include The Acropolis, Hadrian's Arch and Pathenon. There are also many other ancient sites and monuments to explore as well as Museums, Churches, Parks, Galleries and Markets.
Shopping
Shopping in plentiful at the many souvenir shops and markets scattered throughout the city centre. Restaurants and cafes also abound and offer a wide selection of Mediterranean cuisine.
Excursions
There are an abundance of private operators offering a selection of day excursions and night tours in and around Athens. Athens is also the gateway to the Greek Islands and ferries leave regularly from its port, Piraeus.
Family
Athens is child friendly and exploring its ancient sites will be an experience for all the family.
Getting Around
Public and private transport includes buses, trams and taxis, though traffic is chaotic in Athens, so often the best way to get around is to walk. However bear in mind that the terrain is hilly and for those who have health problems such as asthma smog can be a problem, especially in the summer months. Car hire is available though driving is 'for the brave'