Atlanta Travel Guide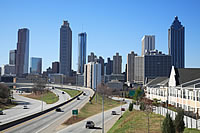 Often described as an endless city, Atlanta, Georgia is a bustling metropolis and one of the US' fastest-growing cities. Atlanta is the birthplace of the famous Coca-Cola brand, which was first produced as a hangover tonic by a local pharmacist. Home to a diverse range of communities, Atlanta is a city where the old meets the new.
Location
Georgia, USA
Climate
Atlanta has a temperate climate and four distinct seasons. Summers are hot and humid, with temperatures regularly rising above 30C, while winters are extremely cold, with occasional snowfall. Atlanta experiences an even spread of rainfall throughout the year, so it's worth packing a good umbrella just in case.
Currency
US Dollar
Time Difference
GMT -5
Transfer Time
Known as the transportation core of the south, visitors to Atlanta will have no trouble getting around. Atlanta's Hartsfield-Jackson International Airport, which serves 80 million passengers annually, is around 12 miles south of the main downtown area. The Atlanta Airport Shuttle departs regularly, transporting passengers to hotels around the city, while a rail line also runs between the airport and city centre.
Hotels
Atlanta is a popular convention destination, so unlike most cities, accommodation is often cheaper at weekends. There is no shortage of hotels, and visitors shouldn't have any problems finding accommodation to suit their budget. As a rule, the further away from the city centre, the cheaper the room. For those on a tight budget, the Atlanta Youth Hostel is an ideal option, while those looking to splash some cash and stay in luxury may wish to consider the Glenn Hotel or the Georgian Terrace.
Attractions
A historic town, Atlanta is home to a host of museums, many of which explore the city's social history. Some of the many museums include the King Centre for non-Violent Social Change, the Jimmy Carter Library and Museum and the Martin Luther King Jr National Historic Site and Visitors Centre. Some of Atlanta's other popular attractions include the Georgia Aquarium and CNN Centre, which offers guided tours.
Shopping
Atlanta boasts numerous expansive shopping malls, including Lenox Square, Phipps Plaza and Underground Atlanta. Those looking to indulge in some antiques shopping can head to the Miami Circle, or the Galleries of Peachtree Hills.
Excursions
There are many tours available to help you explore this vast city and learn more about its chequered past. Film buffs can take the Gone With the Wind Tour, which features some of the locations in the book and film, and also includes a plantation dinner.
Family
Georgia Aquarium is a must-visit attraction for families. As the world's largest aquarium, it houses a vast collection of aquatic animals such as whale sharks, California sea lions and African penguins. Other top family attractions include Zoo Atlanta and the World of Coca-Cola.
Getting Around
Atlanta's mass transit system, MARTA, covers most of the city and offers regular and cheap services to most of the city's attractions. MARTA route 110 travels from Lenox Square to Georgia State Capital, stopping at many popular places along the way.