Bahrain Travel Guide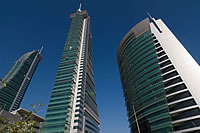 This small but perfectly formed Middle Eastern kingdom has much to offer travellers looking for a mix of ancient traditions and modern culture. Those flying to Bahrain can expect to take in a wide range of historical buildings and sites, as well as enjoy a nightlife packed with contemporary bars, restaurants and clubs.
Location
Off the coast of Saudi Arabia in the Persian Gulf
Climate
Bahrain has an extremely humid and hot summer between June and September, with temperatures almost touching 40 degrees C, making the period from November to March the best time to go.
Currency
Bahraini dinar
Time Difference
GMT +3
Transfer Time
You can catch a bus between the airport and the various locations across Bahrain; alternatively, taxis are relatively inexpensive, with a single journey setting you back no more than about £7.30. There are plenty of car rental firms to choose from at the airport too.
Hotels
As you might expect from a Middle Eastern destination, Bahrain has a host of luxury hotels to make even the most affluent holidaymaker feel spoiled. Top of the list is the Banyan Tree Desert Spa and Resort in Al Areen, the only all-villa private pool resort in the Arabian Gulf. You could also sample the delights of the Crown Plaza Hotel or the Gulf Hotel.
Attractions
You can learn all about Bahrain's history with a trip to the Bahrain National Museum, which offers a wealth of information on the region's ancient heritage. You could then move on to take in the state's historical sights yourself, including various forts and a number of beautifully restored houses. Bahrain's numerous mosques and temples are worth a look if only for their superb architecture, while more active types can take in a spot of golf or engage in some water sports.
Shopping
It's near impossible to go shopping in the Middle East and not encounter a souk. These colourful markets are the perfect places to visit if you're hunting for a bargain and want to test your haggling skills. The Gold Souk in Manama is ideal for those looking for a shiny gift for a loved one, while the souk at Bab Al Bahrain will appeal to those looking for local, exotic goods such as spices and handicrafts. Bahrain also has its fair share of modern malls, shops and boutiques, including Seef Mall, the biggest in the country, and City Gardens at the Sheraton.
Excursions
While a number of Bahrain's main attractions are located in the capital city of Manama, there are plenty of sights located a day trip away from the metropolis. Bahrain is also well connected to the Muharraq and Sitra islands, as well as Saudi Arabia, offering further opportunities for day and weekend excursions.
Family
Bahrain is home to a host of amusement and theme parks that cater for children, including Magic Island, Kids' Kingdom and Chaka Zulu. The region also provides equally well for nature-loving kids, with attractions such as the Al Areen Wildlife Park and Reserve and dolphin watching at the Bahrain Yacht Club on hand to offer animal-related entertainment.
Getting Around
Buses run across Bahrain between 05:00 and midnight local time, while taxis are also available for a cheap, instant ride to the destination of your choice. It's best to fix a fare before getting in the taxi, however. You can also hire a car or hop on a ferry if you're taking a trip to ports around the Gulf.