Berlin Travel Guide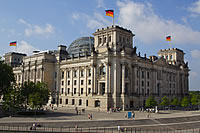 Berlin, the once divided German capital set in the heart of the country is a bustling city where grand buildings, museums, restaurants, bars and theatres reflect the new post unification Berlin. An exciting, lively and cultural place to visit
Location
North east Germany
Climate
Weather and temperatures in Berlin are similar to the UK. Between May and October are popular times to visit.
Currency
EURO
Time Difference
GMT +1 hrs
Transfer Time
Berlin has three airports (Tegel, Schonenfeld and Tempelhof) which are all served well by the efficient German public transport system (Train, Bus, Shuttle)
Hotels
A wide selection of hotels are available in Berlin ranging from pensionen (guest houses) to international five star hotels.
Attractions
Brandenburg Gate, once the boundary between east and west Berlin (Remains of the Berlin wall are now only visible at the former Prussian provincial parliament building in Niederkirchnerstrasse.) Unter den Linden, Kulturform - a collection of museums and concert halls, Kurfürstendamm, The Palace of the Republic
Shopping
There are many new shopping centres in Berlin plus smaller shops and independent stores selling a diverse range of merchandise, designer fashions, music and art.
Excursions
There are many museums and villages and castles to visit in the vacinity of Berlin. Also recommended is the Checkpoint Charlie tour, Kaiser-Wilhelm-Gedächtnis-Kirche and the old Stasi HQ
Family
Most restaurants and hotels in Berlin are child friendly and children will enjoy the Berlin zoo and many of the museums.
Getting Around
Berlin has an efficient public transport network and is easy to get around, though if you prefer to drive it it easier than most European cities. Cycling is also popular.