Barbados Travel Guide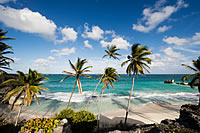 It's little wonder that Barbados is one of the most popular holiday destinations in the world - with fine beaches, superb weather, a vibrant nightlife and friendly locals, the island offers much to keep all visitors thoroughly entertained without giving them a chance to feel bored.
Location
Southern Caribbean
Climate
Barbados enjoys average daytime temperatures ranging from 23 to 29 degrees C year-round, offset by gentle trade winds, with nights being slightly less warm.
Currency
Barbados dollars
Time Difference
GMT -4 hours
Transfer Time
Barbados Grantley Adams Airport is located on the south coast of the island, about ten miles from Bridgetown, the capital. Buses take around 45 minutes to travel between the two points, while taxis can take between 20 and 30 minutes.
Hotels
Accommodation in Barbados ranges from small, cheap bed and breakfasts to lavish five-star rooms in internationally recognised hotels. Visitors to the island can also rent a private villa or apartment, stay in a resort or take part in the Barbados Home Accommodation programme, where travellers can get a unique close-up look at the everyday lives of the region's inhabitants by staying with a local household.
Attractions
Try taking a historical tour of Bridgetown, visit the island's spectacular wildlife reserve, take in the sweeping landscape around the East Point Lighthouse, examine the fine architecture of numerous churches and colonial buildings, sample the Foursquare Rum Distillery, or get back to nature on Hackelton's Cliff.
Shopping
Take advantage of tax-free shopping at Barbados' numerous stores and markets. Exclusive boutiques, small shops selling local handmade goods and colourful open-air markets dot the island, with shoppers sure to find the perfect present to take home.
Excursions
Adventurous types can try hiking through jungles or exploring caves, while others preferring a quieter time of it can tour numerous historical sites and buildings. Check out the Scotland District's beautiful Flower Forest, venture into Orchid World or trek through Farley National Park for a picturesque take on the island. Of course, there's always the option of lazing on one of Barbados' many lush beaches in the forever warm sunshine.
Family
A family trip to Barbados can be both educational and fun for grown-ups and kids alike. Visit Gun Hill and marvel at the giant stone lion left there by British rulers, or visit the Barbados Museum and take in the most important points of the island's history in one building. Children will also find a huge number of delights in the clear blue waters lapping at Barbados' beaches via supervised snorkelling and submarine trips, while several firms offer family trips over the island in special helicopters.
Getting Around
Regular buses ferry passengers to points across Barbados for a fixed fare of B$1.50 per trip. Taxis are readily available, while renting a car can enable visitors to explore the island more thoroughly.