Banjul Travel Guide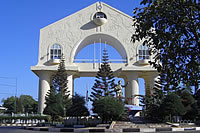 Gambia may be dwarfed on the map of Africa, but tucked away on the West coast is a jewel in the continent's crown. Buzzing with local culture and art, Banjul has come a long way since its foundation as a British trading post and is now a popular, unique winter destination.
Location
Western Gambia
Climate
November to May is the peak tourist season in Gambia as this is the dry season, although weather is warm and welcoming all year round. June to October are particularly hot months, but as an island Banjul is cooled by the sea for summertime tourists.
Currency
Dalasi (GMD)
Time Difference
GMT
Transfer Time
Either taking a hotel-run bus or a taxi from the airport should take around 30 minutes. Banjul International Airport is located at Yundum, where official porters can be spotted by their brown uniforms with yellow tags.
Hotels
Hotels in the country are monitored by the Gambia Hotel Association, which operates a list of registered accommodation sites, including the Kombo Beach Hotel, the Sheraton or the slightly lower budget African Village hotel.
Attractions
Banjul sits on an island in the mouth of the Gambia River and as such the size of its centre is limited. However, its geographical restrictions make it easier to navigate after reaching the city by ferry from the south. Once there, tourists can enjoy the Gambian National Museum and the magnificent Banjul State House. And, of course, a local dish involving fresh fish and seasonal fruit is an attraction in itself.
Shopping
Bargain hunters should head straight for the Albert Market, one of the highlights of the city and the place to stock up on local produce and souvenirs. Other markets, such as Bakua, also serve up offerings of regional crafts while the Gena Bes batik factory provides bargain material to get the local look.
Excursions
Take a trip to Bakau for chance to relax on the idyllic beaches, which can offer a sunbather's dream throughout the year. It also features beautiful botanical gardens and a crocodile pool - rumoured to be the foundation of the village. If you fancy a trip further afield, take a river trip of around Gambia to get a better look at the country and its wildlife.
Family
Although specific activities for children in Banjul are few, with such luxurious beaches and friendly locals young people will be entertained by the change in culture and the services provided by many hotels.
Getting Around
Cars and bikes are available for hire - alternatively keep an eye out for the green taxis which can be rented, although try to choose a roadworthy looking car!