Bodrum Travel Guide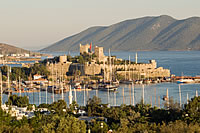 The ancient harbour town of Bodrum is one of Turkey's most recommended highlights for travellers. The holiday spot is ideal for those looking for a break in a location where one can soak up both sunrays and culture - as well as being home to some beautiful beaches, Bodrum is the site of the remains of one of the seven wonders of the ancient world.
Location
Aegean coast of Turkey
Climate
Maximum temperatures can reach a sizzling 34 degrees C in July and August, while minimum temperatures average at about six degrees C in January and February. Winters generally see more rainfall than during the rest of the year.
Currency
Turkish lira
Time Difference
GMT +2
Transfer Time
Bodrum-Milas Airport is situated about 35 kilometres from the centre of Bodrum. You can get a shuttle service or an airport taxi between the two points, with the journey taking between 30 and 45 minutes, depending on where you're staying.
Hotels
Resort hotels border the town in large numbers, but if you want a more authentic experience there are numerous options within the town itself, including traditional hotels, self-catering apartments and unique guesthouses. Popular lodgings include The Butterfly and the El Vino Hotel.
Attractions
The main attraction is the remains of the Mausoleum of Halicarnassus. While there is not much to see, the site is certainly worth a visit if only so you can say you've visited one of the seven ancient wonders. Elsewhere, check out Bodrum Amphitheatre, Bodrum Castle (also known as the Castle of St Peter) and the Bodrum Museum of Underwater Archaeology for more cultural fixes.
Shopping
It can be quite an experience browsing Bodrum's markets, stalls and shops, set along narrow, winding roads. While the main souvenir here is carpets, you can also purchase a wide variety of leather and precious metal goods, as well as art, clothing and ceramics. Make sure you try haggling to get a price lower than the one advertised.
Excursions
Bodrum is ideally situated for day trips. A boat journey to the Greek island of Kos is one of the most popular such trips for holidaymakers. Other nearby sites of interest include Didyma, home of the oracle of Apollo, Pamukkale - which offers spectacular rock formations - and the resort of Marmaris.
Family
You'll find that many of Bodrum's family-friendly resorts more than cater for children's needs, but if you want to head away from these, kids are sure to love the castle and its opportunities for imaginative play, while a bout of sailing in the harbour and a few lazy afternoons on the beach are a must.
Getting Around
The local bus, or dolmus, system, is one of the cheapest ways of getting around Bodrum. There are no fixed fares, with travellers paying depending on how far they are travelling. The dolmus only leaves once it is full. More traditional taxis are also on hand for a quick lift - depending on the traffic.