Bangkok Travel Guide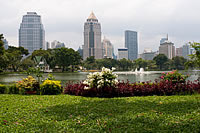 Thailand's bustling, exotic capital is one of the most popular city destinations for long-haul travellers - and it is no surprise why. Bangkok is crammed with historical and cultural attractions, great restaurants, intriguing bars and an energetic atmosphere that pervades the air round the clock.
Location
Near the Gulf of Thailand
Climate
Bangkok has a tropical climate that experiences monsoon rains between June and October. Temperatures can reach average highs of 35 degrees C in April and May, making things rather humid. Average lows hover around the 20 degrees C mark in December and January.
Currency
Thai baht
Time Difference
GMT +7
Transfer Time
Suvarnabhumi Airport is situated 30 kilometres east of Bangkok. Passengers can get to the city from the hub via public buses and taxis, or they can use the airport express bus to get straight from the airport to a specific hotel. Car rental and limousine services are also available.
Hotels
Bangkok is home to a plethora of accommodation of every type for every budget. The most expensive hotels can be found along the Chao Phraya River, while those holidaying on a shoestring might want to know that the cheapest lodgings are in the Khao San Road area. Some decent mid-priced rooms can be found in the Business District.
Attractions
The river is one of the main attractions in Bangkok - you can take a ferry ride down it, relax at a riverside cafe, explore the beautiful temples along the banks and traverse the canals via boat. Elsewhere, the Garden Palace is a must-see for architecture lovers, while the National Museum and Vivanmek Palace are also worth a look. There are plenty of unmissable Thai and international restaurants to sample, while street vendors also provide cheap snacks for those on the go.
Shopping
Suriwong in Silom and the Sukhumvit Road area are home to a number of shops, department stores and shopping centres selling everything from jewellery and clothes to antiques, silks and electronic goods. If you want a more traditional Asian shopping experience, why not head to the Banglamphu area near the river for cheap shops where haggling is recommended, or to Bangkok's various markets - including a floating market on the river?
Excursions
If you fancy taking a day trip, you could visit the royal palace at Bang Pa-In, the beach island of Ko Samet or the Pattaya beach resort, which is about an hour away by rail. History lovers, meanwhile, might want to take the train or bus to Ayutthaya and explore its ruins.
Family
Bangkok isn't just for young backpackers. The city boasts a zoo, numerous theme parks, a planetarium and even a crocodile farm that is sure to fascinate the kids. You could also visit one of the city's many parks and enjoy a picnic, rent a boat or take in a festival or other events.
Getting Around
The main method of public transport in Bangkok is the tuk-tuk, a modified version of the rickshaws seen elsewhere in Asia. If this does not appeal, you can also get around on the Skytrain monorail, the underground, buses, taxis and long-tail boats. Try to agree costs before the journey when taking boats and taxis, however.