Brisbane Travel Guide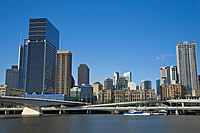 Queensland's capital is for those looking to combine a traditional city break with sub-tropical conditions and plenty of potential for excursions into the leafy wilderness. As Australia's third largest city, Brisbane is brimming with things to see and do and is ideally located for excursions to other hotspots on the east coast.
Location
East coast of Australia
Climate
Brisbane typically sees very warm, humid summers and relatively mild winters, with summer temperatures bringing average highs of about 30 degrees C and winters experiencing average lows of nine degrees C. The city doesn't get as much rainfall as it would like - it is currently in the midst of a drought and regulations are in place to restrict unnecessary water usage.
Currency
Australian dollar
Time Difference
GMT +10
Transfer Time
Brisbane Airport is situated about 20 minutes from the centre of the city by road. Taxi fares are generally around A$33 (£15), plus a small fee for departing taxis. Door-to-door bus services are also available, as are speedy train links.
Hotels
Brisbane offers a wide variety of accommodation, ranging from backpacker hostels and caravan and camping parks to resorts, bed and breakfasts, large hotels and self-contained lodgings. If you're looking for luxury try booking yourself in at the Brisbane Marriott or Palazzo Versace hotels; alternatively, reasonably priced rooms can be found at establishments such as Explorers Inns and the Hotel Formule 1 Windsor.
Attractions
Major landmarks in the city include the Story Bridge, Kangaroo Point Cliffs and Mount Coot-ha, which offers stunning views of Brisbane and beyond. The South Bank, meanwhile, offers a generous outdoor space in which to relax, while also being home to cinemas, free live entertainment, festivals and a beach. Nature lovers will also enjoy the centrally located Roma Street Parkland.
Shopping
The South Bank plays host to a number of markets and touristy shops, while the huge Queen Street mall sells pretty much everything you could need. The Valley, meanwhile, is for trendsetters with cash to splash, with Chinatown offering a number of traditional Asian markets.
Excursions
There's plenty of scope for a day trip or two from Brisbane. You could head to the beaches along the Sunshine Coast, or spend a day on the popular Gold Coast. The region around the Brisbane also has much to offer in the way of countryside and natural scenery.
Family
Brisbane is home to a plethora of child-friendly attractions. Why not visit the Children's Art Centre at the Gallery of Modern Art, or get hi-tech at the Sciencentre at Queensland Museum? The South Bank Parklands also offer a number of relaxing and physical activities, such as swimming and rollerblading, while the Australia Zoo and the Dreamworld theme park offer further entertainment in locations situated up to an hour away from the city.
Getting Around
Taxi ranks are scattered liberally around the city, making it easy to zip from A to B. Brisbane is also served by an extensive network of public buses, with a free service on hand to take passengers around the Central Business District and to other major points of interest. You can get a train to other destinations in Queensland, as well as take a ferry down the river and to the islands of Moreton Bay.