Bordeaux Travel Guide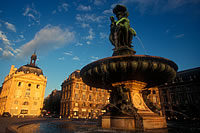 Settle back with a glass of locally-made wine and enjoy the rich selection of architecture on offer in the famous squares of Bordeaux. With fresh sea-air ensuring pleasant evenings, this darling of France was made for days of exploring on foot, followed by long, luxurious dinners. Bon appetit!
Location
Western France
Climate
Short winters are followed by fresh springs and bright, humid summers with temperatures rising to 20.4 degrees C in July. The weather can stay warm until October, although its proximity to the Atlantic Ocean means the evenings are generally mild throughout the year.
Currency
Euro
Time Difference
GMT +1
Transfer Time
A shuttle bus runs from Bordeaux airport to the town centre every half hour, which takes around 30 minutes to the town centre at a cost of seven euros. Local buses also run into the centre, while a taxi will cost around 20 euros.
Hotels
All budgets are catered for in Bordeaux, with the town centre served by The Regent Bordeaux and the Best Western Grand Hotel Francais. Top quality hotels are scattered throughout the area - shoppers may wish to stay close to the heart of the city, while hotels near Le Lac, such as the Pullman Bordeaux Aquitania, will suit those looking for sailing, windsurfing and swimming.
Attractions
The area is probably best known for its high quality wine, with fascinating wine tours available to offer the tastes of the region. Although the Wine Festival takes place from June 29th to 2nd July, trips to some world famous vineyards are available from spring to autumn each year. For a more sober experience, take a leisurely stroll around the cityís historic squares and find out why Bordeaux has been listed as a UNESCO World Heritage Site.
Shopping
No trip to France would be complete without sampling the local food, so head to the Marche des Grands Hommes to sample local cheeses, fruits and, of course, wine. The pedestrianised Rue St Catherine offers a beautiful backdrop for a collection of fashion shops and department stores.
Excursions
Aside from vineyards galore, the Bordeaux region also offers magnificent scenery which can be explored by hire car or bike. The Cote díArgent (the Silver Coast) is well-worth a trip - head to the Carcans-Plage for a grand day by the sea to contrast with the bustle of the city.
Family
A trip to the Bordeaux Pessac Zoo just outside the city offers everyone a chance to see animals such as tigers and hippopotamuses, while a longer trip to Aqualand on the way to Arachon can offer a mass of waterslides and attractions.
Getting Around
As the centre of Bordeaux is a pedestrian area, walking is a pleasant way of seeing the city. Rollerblades and bikes are available for hire, while the local bus service and taxis can take you further out.