Bourgas Travel Guide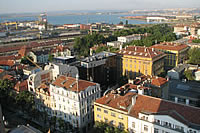 This large Bulgarian city is often bypassed by those looking to head straight for the coast. However, for those who stop and spend a little time in Bourgas the area proves to be a bit of a surprise. Behind its industrial facade Bourgas offers much to see and do beyond the simple sea and sand provided by the more popular coastal resorts.
Location
On the south-eastern Black Sea coast of Bulgaria
Climate
Moderate temperatures year-round, tempered by the presence of the sea nearby. Long, warm summers tend to make way for mild winter temperatures.
Currency
Bulgarian lev
Time Difference
GMT +2
Transfer Time
The Bourgas region is home to its very own air hub, Bourgas International Airport. For those flying into Sofia, there are direct train connections and a decent road network if you're renting a car.
Hotels
Hotel accommodation is relatively plentiful, with rooms to suit all budgets. Two, three and four-star hotels dominate the region, with double rooms costing anywhere between €25 and €100 (£17 and £68).
Attractions
Bourgas offers a range of seasonal activities, varying from traditional Bulgarian festivals to exhibitions and concerts. Check out the local bars and restaurants for some authentic Black Sea cuisine, or wander through the city and examine its austere architecture before visiting the District Museum of History. More than 6,000 students live in the area, meaning that it is likely there will always be something interesting to see or do in the evenings and at weekends.
Shopping
Bourgas' suburbs provide much in the way of inexpensive local goods through various markets and small stores. If you're looking for some touristy presents to get for friends and family back in the UK, you might want to check out the gift shops in the nearby resorts.
Excursions
Try taking a day trip to the stunning Bourgas Lakes just outside the main city, or visit St Anastassia Island just off the coast, which is home to an interestingly old church. Elsewhere, Bulgaria's famous mineral water baths can be accessed to the north-west of Bourgas, while the Pirgos fortress lies to the south of the city.
Family
The nearby resorts offer much to keep children fully occupied for hours on end. A trip to the seaside is always a treat for the kids and excellent local transport links mean that sea and sand are never too far away.
Getting Around
There are a number of local bus services available to shuttle around the city in, while taxis are always on hand for those looking for a quick way to zip from hotel to attraction.