Brussels Travel Guide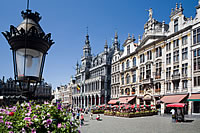 Brussels is the perfect example of European culture at its best. Perhaps most famous now for its role as administrative capital of the European Community, Brussels is a lively, cosmopolitan city with a rich history and culture, amazing architechture and great seafood restaurants!
Location
Belgium, North Western Europe
Climate
Brussels has similar weather to the UK, with the best temperatures from May to September. Winters can be cold and snowy.
Currency
EURO
Time Difference
GMT +1 hrs
Transfer Time
Brussels international airport is 13kms northeast of the City and is served by a frequent and efficient train service taking just 15 minutes to the three main city stations. Buses and taxis are also available, and all major Car Hire firms are represented.
Hotels
Brussels has everything from budget to 5* deluxe. If you are planning a weekend vist, many top hotels drop their prices dramatically from Friday to Sunday
Attractions
The spectacular Grand Place, which is arguably one of the most beautiful squares in Western Europe, the Baroque architecture, the Museum of Fine Art and the Royal Palace. Brussels is proud of its reputation as one of the gastronomic centres of the world and offers many fine restaurants and bars for you to judge.
Shopping
There is a market open every day in Brussels, the most famous being the Flower Market at the Grand Place and the antiques market at Place du Sablon. Avenue Louise offers designer shops and there is more general shopping in Rue Neuve. Belgian chocolates and Belgian beer are both worth sampling
Excursions
Antwerp, Ghent, Bruges and Luxembourg are all easily reached from the centre of Brussels by train or car, as is the famous battlefield of Waterloo.
Family
Brussels is a child friendly city with most hotels and many restaurants offering child discounts.
Getting Around
Brussels has an efficient metro system which is complimented by a network of bus and tram routes. Taxis are plentiful and all major Car Hire companies are represented.