Budapest Travel Guide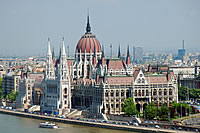 Straddling both banks of the Danube, Budapest is a cultural melting pot that is home to a host of historical and cultural attractions. It is perhaps best known for its relaxing thermal baths and outdoor events, but has also recently benefited from the opening of a number of new bars and restaurants to cater for a younger clientele.
Location
Central northern Hungary
Climate
Summers are long and warm, while winters tend to be short and sharp affairs. Average summer temperatures are around the mid-20s degrees C, while January sees lows of two degrees C on average.
Currency
Hungarian forint
Time Difference
GMT +1
Transfer Time
The main airport is situated about ten miles south-east of the city. It is strongly recommended that if you do not hire a car you take the airport minibus instead, as some taxis tend to charge more than they should for the journey to the city centre.
Hotels
Lodgings to suit every taste and budget are widely available in Budapest, ranging from basic backpacker hostels to top-end luxury hotels. Why not try an establishment located on the leafy outskirts of the city, or take advantage of one of the many student rooms that are made available during the summer?
Attractions
There are plenty of museums, churches and crumbling old buildings to sate any appetite for the historical. Take a glimpse at the Aquincum Museum and Roman ruins, or explore the baroque Inner City Franciscan Church. You could also take a refreshing dip in one of the city's many thermal baths and spas, or venture into the ancient caves that were first formed by these warm waters.
Shopping
As well as the usual gaggle of high street and designer names, Budapest offers lots of traditional Hungarian stores and markets for a more interesting shopping experience. Check out the Folkart Centrum shop for locally-made items such as dolls and decorated eggs, or tickle your tastebuds with some exotically flavoured brandy from the Hungarian Palinka House.
Excursions
Catch a train to Szentendre and see the Hungarian Open-Air Museum, or make a day of it at Visegrad and take in an array of medieval sights, including a magnificent castle. Why not travel east and enjoy the parks and former royal palace of Godollo?
Family
Budapest is home to a zoo, circus and amusement park, offering enough entertainment for at least three half-days of a family city break. There are also a number of traditional puppet theatres and the educational - but fascinating - Palace of Wonders for enquiring young minds.
Getting Around
Budapest has a comprehensive public transport network made up of buses, trams, trolleybuses, and overground and underground trains. If you must travel by taxi, the Budapest Tourism Office recommends that you ask your hotel to order a taxi from a reputable firm rather than hailing one in the street to avoid being overcharged.