Buenos Aires Travel Guide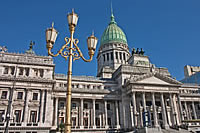 The Argentinean capital lays claim to being one of the most vibrant and dynamic cities in the world - and with good reason. Buenos Aires boasts a culture full of references to its European roots, while also offering its own version of the near-legendary South American hospitality and nightlife.
Location
On the east coast of South America, a short hop away from Uruguay
Climate
Pleasantly mild - average year-round temperatures hover around the 18 degrees C mark, but winter and summer do have their extremes. Rainfall is relatively light and occurs on a sporadic basis.
Currency
Argentine peso
Time Difference
GMT -3 hours
Transfer Time
Ministro Pistarini International Airport (also known as Ezeiza Airport) is located about 40 minutes from the city centre. Buses and taxis are readily available between the two points, but be warned that the local 86 bus can take a couple of hours to get to Buenos Aires.
Hotels
As in any major city, accommodation is plentiful but prices can vary wildly. Costs range from $35 for the cheapest rooms to more than $850 for top-notch five-star rooms. An average two or three-star double room is likely to cost no more than $180.
Attractions
The historic centre of the city - San Telmo and Monserrat - offers the most for those eager to see the sights. The picturesque architecture has a very European flavour to it, with grand colonial buildings around every corner. Don't miss the spectacular Teatro Colon opera house and the austere Casa Rosada government offices. Elsewhere, museums and galleries are plentiful, while a planetary, zoo and the Avenida Corrientes for theatrical types offer amusement for all.
Shopping
Buenos Aires hosts numerous shopping complexes, with the Abasto shopping centre and Galerias Pacifico among those recommended by travellers. Pretty much everything you can think can be purchased in the city, with local food and wine a must for any holidaymaker in the region. The fashion-conscious can take their pick from a range of boutiques, while the Plaza Dorrego in San Telmo holds antiques fairs and tango shows every Sunday.
Excursions
Numerous city tours are available for those who do not want to miss the main sights and sounds of Buenos Aires. The Rio de la Plata offers sailing trips and amazing views of the city, and while Buenos Aires might not be the place you immediately think of when considering hang-gliding, this very activity is popular with tourists wanting a unique perspective on the Argentinean landscape.
Family
Visit the Palermo Viejo for family picnics and walks, hop on a sailing boat going up the Rio de la Plata or keep the kids thoroughly entertained by taking them to the city at Christmastime. Buenos Aires celebrates the festive season in style and combined with the region's summer temperatures at this time of year makes a magical setting for yuletide revels.
Getting Around
Small buses known as colectivos and the underground metro system provide locals and tourists with the most convenient way of getting around the city. Light rail, old-fashioned trams and modern trains offer quicker ways of checking out the scenery beyond the outskirts of Buenos Aires.