Corfu Travel Guide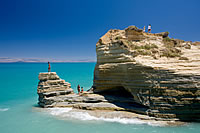 Part of the idyllic Ionian Islands, Corfu is one of the most popular Greek holiday destinations for travellers from across the globe. It boasts lush, sweeping landscapes, a warm Mediterranean climate and enough historical and cultural sights to satisfy any inquiring mind. While Corfu Town is home to a number of resorts, it is recommended that you explore the rest of the island and experience its true character in full.
Location
Off the north-west coast of Greece.
Climate
It is warm nearly all year round in Corfu, with summer temperatures soaring as high as 39 degrees C and winter ones hovering around the 15 degrees C mark. Rainfall can be quite frequent, but snow is rare.
Currency
Euro
Time Difference
GMT +2
Transfer Time
Travellers can get from Corfu International Airport to other parts of the island by taxi or bus. For those travelling to resorts in the north-east, the average taxi fare is about €30. Bus connections are available by getting a bus from the airport to the bus station, which links with the rest of the island.
Hotels
As Corfu is a popular destination, hotels and other lodgings are plentiful on the island. Holidaymakers can expect to pay between €80 and €200 for a mid-priced room, while budget rooms can start from as little as €20. Villas and apartments are also available for rental - perfect for group or family holidays.
Attractions
If you're keen on architecture, Corfu has plenty to keep you enthralled. There are numerous stunning Venetian mansions dating back to the 17th century to cast your eye over, while a number of fortresses provide interest for those who like to imagine how the island was defended from attack during medieval times and beyond. Elsewhere, the Archaeological Museum and the Byzantine Museum offer more in the way of history, while the Museum of Asian Art brings an exotic element to the proceedings.
Shopping
As well as the ubiquitous souvenir shops, Corfu is littered with stores selling traditional local goods such as jewellery, olive wood, needlework and leather items. Ceramics are also common goods, with the Pottery Workshop being one outlet that allows customers to see their pottery being made firsthand.
Excursions
Try taking a tour of the other Ionian Islands - Kefalonia, Paxos, Lefkas, Ithaca, Zakynthos and Kythira. Or why not take advantage of the numerous ferry services available and visit mainland Greece?
Family
The resorts offer plenty of children's activities, but if you want to provide your own entertainment you could take a boat ride around the island or go for walks and explore the lush greenery around the island. Of course, there's always the option of simply reclining on one of the long sandy beaches on the west coast.
Getting Around
Bus services on Corfu are most frequent around the coastal areas, but generally take passengers across the island. Taxis are available, as are ferries and boats if you need to nip along the coast or to a neighbouring island.