Colombo Travel Guide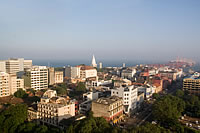 The heart of Sri Lanka is the perfect place for exploring the fascinating Democratic Socialist Republic of Sri Lanka, to give it its rightful title. It's evolved from its days as a colonial outpost to a bustling centre, with a developing economy. Although the city is constantly busy, restful beaches and natural havens are only a short distance away, to ensure a break to Colombo is well-balanced and as relaxing as it is fascinating.
Location
Western Sri Lanka, south-east Asia
Climate
Colombo enjoys steady temperatures throughout the year - a hot and humid 30 degrees C. Be aware that monsoon rains can descend between May and August, then again between October and January, although it remains warm throughout.
Currency
Sri Lankan Rupee (LKR)
Time Difference
GMT +6
Transfer Time
Colombo Bandaranaike Airport is 20 miles from the city centre, with public buses leaving every 30 minutes - the journey time is about an hour to the Fort Bus Station. Expect to pay around LKR 35 for a journey, while a taxi will cost around LKR 2,000 but will shave 15 minutes off the journey time.
Hotels
The Hilton provides five star luxury, opposite the Old Parliament Building with views of the harbour, while the seashore is served by the Colonial-styled, and more moderately priced, Galle Face Hotel. The smaller Park Street Hotel is centrally located, and offers visitors a chance to stay in a 250-year-old re-furbished bungalow: the former home of a wealthy, eccentric couple.
Attractions
Colombo's history as a colonial city is reflected in its varied architecture, which can be seen by walking around the Fort area - now populated by modern shops and offices. The Colombo National Museum offers an insight into the region's checkered history, with some beautiful exhibits. The National Art Gallery, Lionel Wendt Centre and Sapumai Foundation cater for the artistic appetites of visitors to Sri Lanka.
Shopping
The Pettah bazaar district is a great place to head for local goods, while enjoying the buzz of this bustling area. Sri Lankan jewellery makes a wonderfully ornate souvenir, while local fruits, teas and famous Sri Lankan cinammon await. Take a local guide to ensure you get a good bargain and get the most from the bustling bazaar.
Excursions
Colombo is often used as a base for exploring the range of idyllic Sri Lankan beaches, the closest of which is the Mount Lavinia, around six miles from the city. However, a longer holiday to the island could involve a trip to the ancient capital of Anuradhapura, just over 200 miles from Colombo, a sacred Buddhist region littered with temples and shrines.
Family
Colombo Dehiwala Zoo is home to a large number of animals, such as indian elephants and a butterfly park, as well as beautiful botanical gardens for a full day's entertainment. If you're planning on making a trip outside the city, try the Leisure World Theme Park at Kaluaggala, which features water slides, rides and a rainforest.
Getting Around
Most visitors chose to get around by taxi, as the buses can be crowded and hard to navigate. Although taxis, and the bumpier rickshaws, are reasonably priced, prices should be agreed on in advance. Cars are also available for hire with a driver, needed to negotiate the challenging traffic in the city, which could result in your own personal guide for some great insider tips.