Copenhagen Travel Guide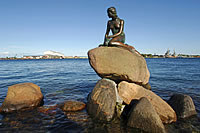 The capital of Denmark and the seat of the oldest kingdom Copenhagen has become a vibrant and exciting destination to visit. From its beginnings as a small port town it has grown to become the largest city in Scandinavia. However it still has an 'old world' charm with its canals, harbour, quaint historic buildings and houses and medieval narrow streets.
Location
Situated on the island of Zealand in Denmark
Climate
Copenhagen has very cold winters (average daytime temperatures of -3 to 3 degrees Celsius) but pleasant summers (average daytime temperatures of 18 to 23 degrees Celsius)
Currency
Danish Krone
Time Difference
GMT +1 hrs
Transfer Time
Transfer from the airport to the city centre by train takes approx 10-15 minutes and 20-30 minutes by shuttle bus. Taxis are also available.
Hotels
Accommodation in Copenhagen is plentiful and range from moderately priced local hostels to deluxe international hotel chains.
Attractions
Take a stroll down Stroget, the oldest (and longest) pedestrian-only street in Europe, walk around the Latin Quarter, watch the changing of the guard at the Amalienborg Palace or take a tour through some of the rooms of the Palace now open to the public. For a cultural experience, visit one or more of the many museums, churches, castles and palaces or to get a breathtaking view of Copenhagen walk to the top of the Round Tower in the old town. A must-see for visitors to Copenhagen is 'The Little Mermaid' (of Hans Christian Andersen fame)
Shopping
Copenhagen offers shoppers everything from Antiques, locally made porcelain, glassware, silver and china to chic designer labels and Scandinavian knitwear. The locals love their food and you will find the cafes and restaurants have a friendly atmosphere and offer culinary delights to suit all tastes.
Excursions
Excursions in and around Copenhagen include walks around the old town, open-top bus tours, boat cruises along the many canals, harbour cruises, coach tours to the island of Amager (with it's Dutch heritage). Tours are also available to the outlying castles and palaces or for something different take a train trip to Malmo in Sweden for the day.
Family
Copenhagen has something to offer all the family. Attractions especially for the children include a visit to the Zoo and Aquarium, or spend a day at fairyland Tivoli Gardens with its beautiful gardens and Amusement Park.
Getting Around
Walking is a great way to see the sights in Central Copenhagen. However you can buy a daily 'Copenhagen Card' which offers not only unlimited travel on the efficient public transport system, but also free admission to many of the city attractions. Bike and car hire are also available.