Cape Town Travel Guide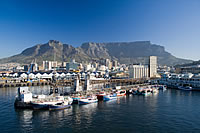 Overlooked by the famous Table Mountain, Cape Town is situated on the coast where the Indian Ocean meets the Atlantic Ocean and is an all year round destination for sun-worshipers offering beautiful beaches located just minutes from the city centre. One of the world's most beautiful city it also boasts great shopping, restaurants and much more.
Location
Located on the south-west coast of South Africa
Climate
Temperate – mild winters (daily average temperature between 15-20 degrees Celsius), hot summer temperatures (daily average temperature between 25-30 degrees Celsius)
Currency
South African Rand
Time Difference
GMT +2 hrs
Transfer Time
Cape Town International Airport is 13 miles from City Centre and is easily reached by shuttle bus ot taxi.
Hotels
A selection of modern high quality hotels are available at reasonable prices, some with spectacular views of the ocean and Table Mountain.
Attractions
There is so much to do and see in and around Cape Town. Explore the physical landmarks such as Table Mountain, The National Park and the beautiful coastline. Take one of the many cruises to Seal Island from Hout Bay Harbour. Also recommended is a visit to the Robben Island Museum, The South African Museum and Planetarium, The Two Oceans Aquarium or take the children to the five-storey Imax Theatre.
Shopping
Great shopping opportunities abound and bargains can be found on souvenirs and other items.
Excursions
There are many excursions available in and around Cape Town: Trips to Table Mountain and the Castle of Good Hope. Further afield you can also explore some of the west coast villages, the National Park or for the wine taster perhaps a visit to Groot Constantia.
Family
Many of the attractions and excursions have a family orientation and children are welcomed in most hotels.
Getting Around
Buses are the main mode of public transport in the city though trains do run to the southern suburbs. You may prefer to hire a car to get around.