Dubrovnik Travel Guide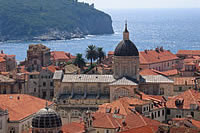 Known as the Pearl of the Adriatic, the historic city of Dubrovnik is one of the highlights of a trip to Croatia. Spectacular ancient monuments combined with beautiful beaches and sparkling blue seas make this location ideal for those who want both a relaxing and intellectually stimulating holiday.
Location
On the extreme south coast of Croatia
Climate
Mediterranean-style, with average summer temperatures of around 25 degrees C and winter temperatures that tend to go no lower than zero degrees C.
Currency
Croatian kuna
Time Difference
GMT +2
Transfer Time
Dubrovnik Airport is about 20 kilometres from the centre of the city. There is an airport-run shuttle service for around €4 (£2.72) each - the Atlas bus - which picks up passengers from every flight that lands at the hub, as well as a public bus service and a number of taxis.
Hotels
A wide range of three, four and five-star hotels are available within the city, as well as a number of private apartments, rooms within family homes and campsites. Prices can range from less than £20 for very basic accommodation to over £470 for a luxury room with all the trimmings.
Attractions
Perhaps the most distinguishing feature of Dubrovnik is its impressive city walls. There are several ideal vantage points from which to see the walls in all their glory, including Fort Imperial and nearby Zarkovica. Elsewhere, check out the Maritime Museum and the Treasury of the Cathedral for historical artifacts, indulge in a spot of tennis and explore the local cuisine, mainly consisting of grilled meat and fish, at one of the many restaurants and taverns dotting the city.
Shopping
The old city is home to a number of gift shops and souvenir sellers for that special something to take home, while Gruz Harbour and Lapad Peninsula play host to several shopping centres if you fancy perusing for yourself.
Excursions
One of the best excursions you can probably take from Dubrovnik is a trip down the Dubrovnik Riviera, sailing past the islands of Lokrum, Kolocep, Lopud, Sipan and Mljet. Each island has something special to offer visitors, including pre-Romanesque churches on Kolocep, lush beaches on Sipan and the Benedictine monastery of St Mary on Mljet. Other excursions consist of a vineyard tour of Peljesac, outings to various rustic villages in the countryside and adventure tours involving canoe safaris on the Neretva River.
Family
The summer's Dubrovnik Festival brings plenty of entertainment for all the family with musical performances and parades galore. Elsewhere, the city's beaches and ruins ripe for exploration can be good fun for the kids. Failing that, why not take the children on a boat trip through the Dubrovnik Riviera or head to Konavle Valley for an introduction to traditional silk production?
Getting Around
The main forms of transportation in Dubrovnik are via buses and rented cars or taxis. Ferries and boats are also on hand to take tourists and locals to the neighbouring islands.