Denver Travel Guide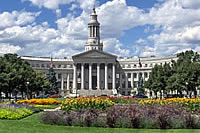 Set against the spectacular backdrop of the Rocky Mountains, Denver is a vibrant city that offers much to see and do. The metropolis, although relatively small, is well able to compete with larger US cities in terms of culture, activities, dining and shopping - and has the added bonus of being a short journey away from some of the best skiing in the US.
Location
Central Colorado
Climate
Denver has a dry, mild climate and gets 300 sunshine days a year. Winters see average highs of about seven degrees C, while summers experience highs of 31 degrees C on average. Early spring and late autumn tend to be the most common seasons for snowfall.
Currency
US dollar
Time Difference
GMT -7
Transfer Time
Denver International Airport is located about 35 minutes away from the centre of the city by car. Passengers can easily grab a taxi, shuttle bus or public bus between the two points.
Hotels
Some 7,300 hotel rooms are available in downtown Denver alone - meaning that it should be relatively easy to find the perfect lodgings for you. You can get a room in a traditional hotel, bed and breakfast or guesthouse, or opt for an entire apartment or even a bed in a converted mansion. If you're planning on staying outside of the city limits, you could look into staying at one of the dude ranches dotted around the region.
Attractions
Denver is the ideal location for a city break if, at heart, you love to commune with nature. The metropolis boasts the largest city park system in the US and has a zoo that is rated the fourth most popular in the country. You can also get a culture fix at museums such as Buffalo Bill's Museum and Grave, as well go on winery and brewery tours and check out seasonal events including the Cherry Creek Arts Festival and the Cinco de Mayo family festival.
Shopping
Even the most addicted of shopaholics cannot fail to be satisfied by Denver's shopping facilities - its Cherry Creek Shopping District alone contains almost 500 boutiques, department stores and galleries. The Cherry Creek Shopping Centre is home to shops such as Macy's, Saks Fifth Avenue, Burberry and Tiffany and Co, while a host of smaller, specialist stores are located around Denver to cater for those who prefer a more personalised shopping experience.
Excursions
There's plenty to get stuck into outside of the city - why not head to Canon City for a spot of rafting, or perhaps take a hot air balloon ride in Colorado Springs? Of course, you could also get yourself up a nearby mountain for some skiing or snowboarding - there are plenty of resorts for just this purpose to choose from.
Family
As well as the 75-acre Denver Zoo, the city also boasts a number of amusement parks, including the Lakeside Amusement Park and Water World, the biggest family water park in the US. The Children's Museum of Denver and historic attraction Tiny Town are also big draws for those with kids.
Getting Around
Local bus and train services are on hand for getting from one part of the city to another cheaply, while taxis offer a convenient alternative if you're in a hurry. Numerous car rental companies also operate from Denver, while limousine and chauffeur services are available if you have a special occasion to celebrate.