Bali Travel Guide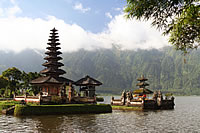 Associated with idyllic beaches and relaxing hotel spas, Bali is also a historical centre in Indonesia. With enough temples, forests, wild monkeys to keep the most determined traveller satisfied, the island also offers dreamy sunsets, top quality restaurants and accommodation, which has earnt it a reputation as an idyllic getaway. Local customs are strongly upheld, with the celebrations mainly based around holidays which are part of Balinese Hinduism. It's worth noting that it's customary to eat, wave and hand things over with the right hand, as the left is considered impure.
Location
Lesser Sunda Islands, Indonesia
Climate
As a tropical island, Bali has a typically sunny climate with temperatures reaching up to 33 degrees C year round. However, be aware that visits between December and March could mean witnessing the downpour of the West Monsoon. Rain is much less likely in the summer months, when humidity is also reduced, although it can be a lot cooler in the mountainous regions.
Currency
Rupiah (RP)
Time Difference
GMT +8
Transfer Time
The nearest town to Bali's Ngurah Rai Airport is Denpasar at 15 kilometres distance, which can be reached by regular buses or by pre-paid taxis available for hire outside the airport. However, the resort of Kuta on the tip of Bali is within walking distance.
Hotels
Standards of hotels and villas in Bali are very high: as the economy depends on tourism, levels of service and cleanliness are consistently excellent. For accommodation in the cultural hotspot of Ubud, try the Tegal Sari or the restful haven of Alam Shanti. For a stay near the beach, try the traditional cottages of the Oberoi Bali located in Seminyak.
Attractions
Diving is a very popular activity for tourists to Bali, with guides available to help you explore trickier sites such as the wreckage of the US ship USAT Liberty. Other treats available include the Reptile and Crocodile Park at Badung and the magnificent temples and shrines of Besakih, a complex of structures from the 14th - 17th centuries. Those interested in local historical architecture can find examples all over the country, with over a million temples and many palaces scattered throughout.
Shopping
Markets around Bali, such as those in Sanur and Kuta sell local clothes and jewellery but be prepared to bargain. A rudimentary grip of the local language can help: ëMahal' means ëtoo expensive' in Bahasa. Ubud is the place to head for art, while traditional carvings can be bought in centres such as Buruan and Pujung. Avoid buying marine products, such as coral, as these are likely to have been retrieved illegally and form part of a trade which is damaging local reefs.
Excursions
Many tours are available to help you explore some of the harder to reach regions of Bali, including trips to peruse the magnificent (and still active) volcanoes as well as traditional villages and forests. A visit to the Monkey Forest near Sangheh is also a highlight on the long list of possible excursions available.
Family
Waterbom, a waterpark in Kuta, is a popular site for all the family, with slides and sports to entertain younger members while the adults can take advantage of the on-site spa. For a more adventurous aquatic experience, white-water rafting is an exhilarating way to see the Ayung river.
Getting Around
Cars and motorbikes are available to rent, and offer convenience for tourists prepared to face the sometimes chaotic traffic. Minivans, or bemos, offer a type of bus service which is popular on Bali, although metered taxis may be more time-efficient and convenient.