Dublin Travel Guide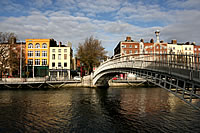 Dublin is one of the most popular city destinations in Europe and deservedly so. The Dubliners are proud of their city and it's history and culture and welcome visitors to the city with a warmth that is rarely seen elsewhere in Europe. Once you've experienced Dublin you'll never forget it.
Location
East coast, Repblic of Ireland
Climate
Similar to the UK. Winters can be cold and windy though snow is unusual due to the coastal location. Summers are bright and warm, around 15-20 Celsius
Currency
EURO
Time Difference
GMT
Transfer Time
Dublin airport lies approx 30 minutes to the north of the city and there are shuttles, taxis and buses running to the city centre.
Hotels
There are many hotels in dublin offering everything from simple B&B to 5* luxury. Prices are reasonable though you will pay more in the city centre.
Attractions
Dublin castle, Guinnes Museum and brewery tour, Kilmainham Jail, Temple Bar, Phoenix park, Grafton street, Trinity College, St. Patricks cathedral and countless bars to while away the hours with a pint of Guinness and make new friends!
Shopping
For the shopaholics, Grafton street (and surrounding roads) is the first place to head to. There are a wide range of shops, particularly fashion stores available and the prices are reasonable. For the designer boutiques, head to Leeson street.
Excursions
Outside Dublin it is worth hiring a car and exploring some of the villages and towns of Co Dublin and Co. Wicklow. Vist the beautiful village of Dalkey (8 miles south of the city centre) or head further south to Bray, Wicklow and Glendalough
Family
Dubliners and the Irish in general love children and they are welcome in most restaurants, bars and hotels. There are many attractions and things to do in Dublin that children will enjoy.
Getting Around
There are plenty of buses in Dublin which will take to you most parts of the city and the DART rail service which runs from north to south Co, Dublin along the coast. The city centre is best explored on foot, though hiring a car and visiting the outlying areas is highly recomended.