Durban Travel Guide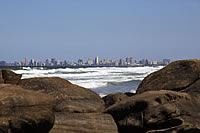 Holidaymakers who head to Durban will be able to combine the best features of a city and seaside break. The region boasts beautiful beaches, a warm climate and a host of museums, galleries and theatres to provide both sun worshippers and culture vultures with a host of things to see and do.
Location
KwaZulu-Natal, east coast of South Africa
Climate
Durban has a sub-tropical climate that is warmest between January and March, with highs of around 28 degrees C, and coldest between June and August, with minimum temperatures of 11 degrees C. It can be rather wet year-round, but the city does not get cold enough to experience truly frosty conditions.
Currency
South African rand
Time Difference
GMT +2
Transfer Time
Durban International Airport is situated some 15 kilometres south of the city itself. If travelling from the UK you will need to first catch a flight to Johannesburg or Cape Town and change for a connecting service. Three different companies lay on airport shuttle services to the city, while taxis are in operation from the departures terminal. You can also rent a car from a number of different firms.
Hotels
If you book early enough you should be able to nab a room in a bed and breakfast by the beach. Backpacker accommodation includes the Gibela Backpackers Lodge and Banana Backpackers, while just a few of the many mid-priced hotels consist of the Ridgeview Lodge and Quarters Hotel. For upmarket travellers, a Hilton is on hand to provide the utmost comfort, while the five-star Zimbali Lodge offers both luxury and scenic surroundings.
Attractions
Aside from the beaches on the Golden Mile, Durban features an array of museums, including a maritime museum on a boat and the Warrior's Gate Moth Museum, which has numerous displays of military artefacts from both world wars on show. Elsewhere, the Elizabeth Gordon Gallery is a must for fine art lovers, while numerous mosques, forts and temples provide a showcase of the region's architecture over the years.
Shopping
The huge Gateway Mall has pretty much everything in one place, but if you want a slightly less corporate shopping experience, head north to the La Lucia Mall for a less frenetic day, or check out the Workshop Shopping Centre for art and antiques.
Excursions
Why not head south and west along the coast and take in the interesting destinations between Margate and Port Elizabeth? You could also travel north as far as Swaziland, or take in the scenic landscapes further inland from Durban.
Family
The uShaka Marine World theme park has much to entertain young ones. The Mitchell Park Zoo is home to a host of exotic birds, fish, reptiles and more, while the Funworld amusement park, a go-karting circuit, aquariums and even a snake park offer further entertainment for all the family.
Getting Around
Durban's bus system consists of newly launched services that run every 15 minutes and an older network that is less reliable. Private and group taxis are also available, as well rickshaws on the waterfront.