Edinburgh Travel Guide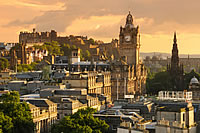 Edinburgh, the capital of Scotland, is steeped in history and culture and a 'must visit' for anyone planning on Scottish adventure. Whether you are walking around the streets of the 'Old' or 'New' Town, exploring Edinburgh Castle or just taking in the views from its many scenic points, you are bound to enjoy all the experiences it offers.
Location
East Coast of Scotland, UK
Climate
Cold winter temperatures (daily average temperature between 0-5 degrees Celsius), moderate summer temperatures (daily average temperature between 15-20 degrees Celsius)
Currency
UK Pound
Time Difference
GMT
Transfer Time
Edinburgh Airport is 6 miles from City Centre and Airlink buses run to the city centre and take around 30 mins. Taxis are also available
Hotels
Budget, Moderate, Superior and Deluxe accommodation is available in a selection of traditional and modern hotels.
Attractions
Historic sites include Edinburgh Castle, Holyrood Palace and Scott Monument. The city also offers a cultural experience and boasts many Art Galleries and Museums. Visit one of the City Theatres where you may see a Musical or Ballet. If you are visiting Edinburgh at the tail end of August take in the arts at the famous Edinburgh Festival.
Shopping
Princes Street in the City Centre is the main shopping precinct. In and around this area you will also find restaurants offering some of the finest local and international cuisine in Scotland.
Excursions
Organised tours of the city and surrounding countryside on double-decker coaches are available.
Family
Many hotels welcome children and special offers for families can be found. Most children will enjoy exploring the Castle and palaces.
Getting Around
Walking is nice way to explore the city centre, but bear in mind the terrain is hilly. Alternatively, local buses are reasonably priced and their routes take you near most of the major attractions. To explore the beautiful Scottish countryside and scenery around Edinburgh there are bus and train services to outlying areas, but if you are looking for a more independent way to travel, hire car prices are reasonable.