Kefalonia Travel Guide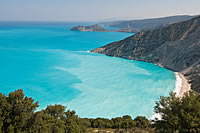 As one of the larger Greek islands, Kefalonia can offer the full experience of Greece in a conveniently accessible location. Since cinema-goers were treated to views of the idyllic island in the 2001 hit movie Captain Corelli's Mandolin, more people are realising the full potential of this lush corner of the Mediterranean region. However, Kefalonia has managed to retain its hallmark tranquillity for a relaxing journey to Greek beauty and culture.
Location
Western Greece
Climate
Mild winters and dry, hot summers make Kefalonia a typical example of a Mediterranean island, with temperatures in July rising to over 30 degrees C. Spring is milder, with average temperatures in the late teens, which could suit walkers hoping to explore the island on foot.
Currency
Euro
Time Difference
GMT +2
Transfer Time
Daily flights from Athens and other destinations arrive at Kefalonia Airport, which is situated nine kilometres from the capital Argostoli. Taxis are available for the short journey into town, with some hotels offering free pick-ups.
Hotels
For accommodation in the capital, hotels such as the Aenos can offer modern facilities in traditional Greek architecture. Meanwhile, those travelling away from the metropolis can find villas for rent, such as the Thermanti Villas close to the village of Spartia. Smaller, regional hotels are located in the coastal villages of the island.
Attractions
The beaches of the island are a must-see on any trip with Myrtos beach, north of Argostoli, one of the most famous on the Ionian coast. Kefalonia also has two castles, St George and Assos, which are both steeped in local history of battles against attacks from pirates.
Shopping
Local goods, such as the delicious olives which grow on the island, can be bought at markets in all the villages and towns in Kefalonia. Although food is dominant in local goods, silver and gold jewellery are also on sale - as well as larger retailers for day-to-day necessities.
Excursions
The best view of the local sealife is available on a trip in a glass-bottomed boat, while the more adventurous could try learning to sail on a yacht or experiencing diving. More rural areas, including Kefalonia's famous mountainous regions, are also accessible by horse - provided by one of the two riding schools in the country.
Family
Kefalonia has a well-deserved reputation for friendliness, and children are made to feel welcome at the variety of traditional events and festivals which take place around the island. For details of the festivities taking place during your visit, check information from the Municipality of Elios-Pronni. The Festival for the Environment, which takes place in August, is particularly child-friendly.
Getting Around
Cars are readily available for hire to get around the island, while reasonably priced tours are available by boat, bike and car for a guided journey around the prime locations.