Faro Travel Guide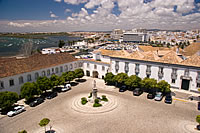 Faro is the gateway to the Algarve and a great base from which to explore all the cultural and historic background of this southern part of Portugal. Furthermore this region has some of the most beautiful beaches in Europe and offers all year round sunshine. You can stay in Faro or move along the coast to other resort towns, eg Vilamoura, Albuferia, Portimao, Lagos and Praia da Rocha.
Location
Southern tip of Portugal
Climate
Mediterranean climate - mild winters (average daytime temperatures 15-20 degrees Celsius), hot summers (average daytime temperature 25-30 degrees Celsius)
Currency
EURO
Time Difference
GMT +1 hrs
Transfer Time
Faro Airport is situated approximately 4.5 miles from the city centre. There is a shuttle service by Aerobus operating from the Airport to the city centre. Public buses and taxi are also available. Transfer times to other resort towns are: Vilamoura (approx 30 mins) Albuferia (approx 1 hour), Portimao and Praia da Rocha (approx 1 ½ hours) and Lagos (approx 2 hours).
Hotels
A wide selection of accommodation is available in and around all Algave Resort Towns (Faro, Vilamoura, Albuferia, Portimao, Lagos and Praia da Rocha) ranging from self-catering to quality guest and Manor Houses and luxury resort style Hotels.
Attractions
The Algarve offers so much to do and see. Outdoor attractions include beaches, swimming, water sports and golfing. You can also visit one of the many cultural sites, including Museums (eg Archaeological, Ethnographic, and Maritime), Cathedrals, Convents and Churches (eg Chapel of Bones - Capela dos Ossos) and other historic archaeological sites.
Shopping
Numerous shopping centres and local traditional shops and markets offer a wide range of retail goods. There are also many cafés and restaurants offering local and international cuisine.
Excursions
Take a walk around the Old City still surrounded by Roman Walls. Visit the sand spit resort of Praia de Faro, enjoy the picturesque waters teaming with birdlife in the Ria Formosa lagoon nature reserve, take a boat to the uninhabited Ilha da Armona for a spot of sunbathing. If you have a car why not take a drive along the coast and visit the other resort towns (eg, Vilamoura, Albuferia, Portimao, Praia da Rocha, Lagos and Luz) each offering their own cultural experiences.
Family
Faro and the rest of the Algarve is a great destination for all the family and child offers on some hotels are available. A trip to The Big One water park will probably be a highlight for the children.
Getting Around
Faro has public buses and private taxis. For greater flexibility car hire is recommended especially if you want to explore the Algarve coast and its many other resort towns.